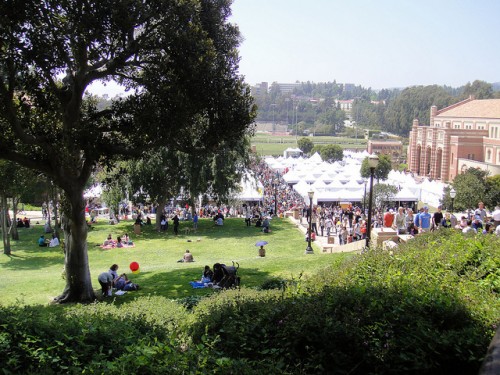 As I have mentioned several times already,  I am leaving the Midwest behind tomorrow for a weekend of sun, sand and books in southern California.
Fellow book blogger and dear friend Florinda (The 3R's Blog) is letting me crash on her couch (and making sure I have sunscreen to wear) so we can go to the the Los Angeles Times Festival of Books, a two-day event at the University of Southern California, this weekend.
Our initial list of potential readings and events to attend was huge, but after some back-and-forth and prioritizing, we managed to organize a pretty laid-back schedule of six readings over two days. The conversations are technically free, but they charge a small fee to reserve tickets ahead of time because most are indoors. Here's what we've got planned:
Current Events: Places in Crisis featuring Sheri Fink, Charlie LeDuff and Amy Wilentz
B.J. Novak, author of One More Thing, in conversation with Kenneth Turan
REDSHIRTS: From Page to Screen featuring John Scalzi, Jon Shestack and Pamela Ribon
Memoir: Live (and Laugh) Through This featuring Anna David, Annabelle Gurwitch, Pamela Ribon and Lilibet Snellings
Are We What We Eat?: The Culture of Food featuring Gustavo Arellano, Jonathan Gold and Dana Goodyear
Nonfiction: Exploring a Singular Pursuit featuring Tom Bissell, Dana Goodyear, Edward Humes and Greg Sestero
Aside from those events, I think we are both most excited to get books signed by Sheri Fink, author of Five Days at Memorial, and Rainbow Rowell, author of Fangirl (and Eleanor and Park, but I think we're psyched for Fangirl). I'm also excited to get some books signed by Leigh Bardugo, author of the Grisha Trilogy, if the timing works out.
Other than that, I don't really have any idea what to expect other than that it will be warm and sunny – a welcome change from early spring in Minnesota. If you're in Southern California and plan to be at the LATFOB for part of the weekend, let us know so we can try to meet up!
I won't be updating the blog over the weekend, but I will be sharing our adventures on Instagram: http://instagram.com/kimthedork
And in case you were wondering, the books I packed to read on the plane are Blonde by Joyce Carol Oates, which seems appropriate for a trip out to LA, and The Empathy Exams by Leslie Jamison (if it arrives in the mail today) because I'm craving some excellent essays. I've also got both The Martian by Andy Weir and Veronica Mars and the Thousand Dollar Tan Line by Rob Thomas and Jennifer Graham on audio to keep me company. It's going to be a good trip.
Photo Credit: LA Times Festival of Books 2010 by pop culture geek