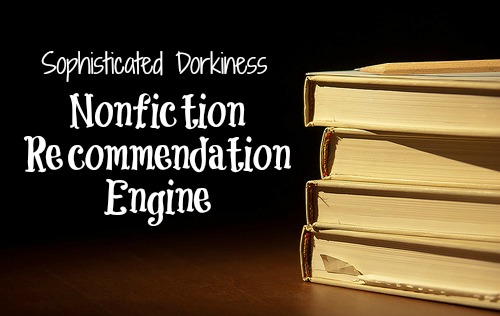 The Nonfiction Recommendation Engine is a semi-regular feature in which I offer personalized book recommendations based answers to a short list of questions. My real hope with the series is that other readers will jump in with recommendations in the comments, making each post a great resource for nonfiction reads. You can catch up with Part I, Part II, Part III and Part IV by following those links.
Happy Friday! I'm so glad the weekend is coming — I need a vacation to recover from my vacation (and the cold I seem to have picked up along the way). With that in mind, I've just got one nonfiction recommendation to share today.
Today's request is an awesome one from Rachel:
I'm looking for a travel memoir, a book on public health or international subjects, or narrative nonfiction. Some similar books I've read are Turn Right at Machu Picchu and The Foremost Good Fortune (travel memoirs), Spillover (public health), and Methland and Guests of the Ayatollah (narrative nonfiction). I'm looking for something that's light to media difficulty – just not terribly academic. I can do serious if it's very well-written, like Mark Bowden. I'd love to find more good narrative nonfiction.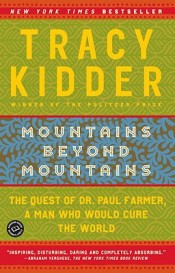 I was so excited to see this request because the perfect book came to mind almost immediately: Mountains Beyond Mountains by Tracy Kidder. This book combines every topic Rachel mentioned – travel, public health and international politics – into a wonderful narrative.
Mountains Beyond Mountains is the story of Dr. Paul Farmer, a physician and anthropologist who has worked tirelessly to eradicate treatable diseases in countries around the world. He is probably best known for his work fighting tuberculosis in Haiti, Peru and Russia with his organization, Partners in Health. Kidder is an amazing writer who helps humanize Farmer despite his almost super-human work efforts.
If you are curious about Farmer after finishing the book, another one I would suggest is Haiti After the Earthquake, a collection of essays that Farmer collected from relief workers and survivors in the country. It's not as narrative, obviously, but it's still raw and important and relevant.
Interested in getting a personalized nonfiction recommendation? Please fill out this form to get on the list. I currently have four requests in my queue.