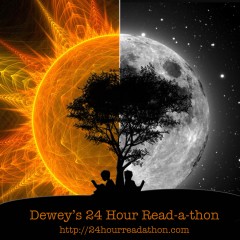 The Readathon is coming!
This Saturday, April 26 Dewey's 24 Hour Readathon, an excuse for book nerds around the world to set aside their responsibilities for a day to spend an entire day reading. I've only finished four books this month, so I'm pretty excited for a weekend devoted to good books. 
It seems like every Readathon I play around with how to do updates. I like putting things here on the blog, but updating a post throughout the day can get a little cumbersome. Last year I played around with doing updates on my oft-neglected Tumblr, A Little Bit of Dorkiness, and my Twitter feed (@kimthedork), along with a post here that linked to those updates.
This year I'm going to experiment with using Storify to collect my updates from across social media to share here on the blog. I'm not sure how it will go, but ultimately the point of the Readathon is reading, not documenting, and I'm not too stressed about how it'll work. That's probably more than you wanted to know anyway!
My Book Pile
What I know you do want to hear about is my stack of books.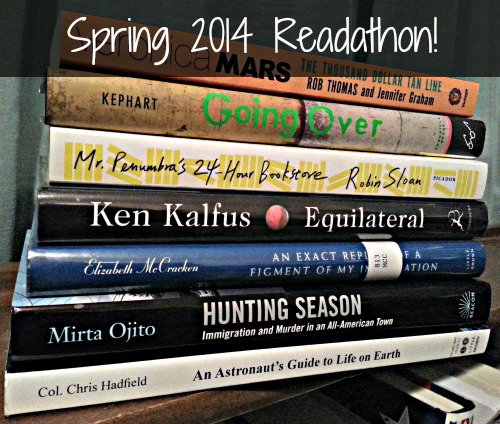 I've been futzing around with this stack all week (seriously!). If you can't read the titles, they are (bottom to top):
An Astronaut's Guide to Life on Earth by Chris Hadfield (nonfiction/304 pages)
Hunting Season by Mirta Ojito (nonfiction/264 pages)
An Exact Replica of a Figment of My Imagination by Elizabeth McCraken (memoir/192 pages)
Equilateral by Ken Kalfus (fiction/224 pages)
Mr. Penumbra's 24-Hour Bookstore by Robin Sloan (fiction/304 pages)
The Last Girlfriend on Earth by Simon Rich (short stories/240 pages – not pictured because it hasn't arrived in the mail yet!)
Going Over by Beth Kephart (YA fiction/264 pages)
Veronica Mars: The Thousand Dollar Tan Line by Rob Thomas and Jennifer Graham (audio)
I've also got a few ebooks lined up:
Saga Vol. 1, 2, and 3 (comics)
Cinder by Marissa Meyer (YA fiction/448 pages)
Obviously, this is more books than I can possibly read in a single day. But I think there's a good chance I can get through three or four of them before I have to call it quits. And I flew through a whole book in a single day last Sunday, so I think I'm warmed up for a reading binge.
My Readathon Essentials
I've also been working on getting all of my other Readathon supplies together so I don't have to go hunting around on Saturday morning. My Readathon essentials include:
A notebook and pens and pencils to keep track of reading time, number of pages, and things I want to remember
A stopwatch to track my reading time, usually just the stopwatch on my phone
My tablet, which functions as an ereader and a way to keep up with social media
Plenty of tea and my favorite mug
Snacks! I like to have cut up fruits and veggies to snack on, along with mini cheddar rice cakes and chocolate covered raspberries.
Totino's Party Pizza! This is my traditional Readathon dinner.
Diet Mountain Dew for when black tea just isn't enough caffeine
Headphones and my phone charger for listening to audio books and making sure my electronics stay awake along with me.
My Reading Plan
Whew! This post is getting long, so I'll wrap it up with my general plan of attack for the Readathon. I'll probably start out with one of my nonfiction selections, then switch to fiction in the afternoon. I'm planning to save both of my YA selections until late in the evening, mixing in the comic books in between for some quick reads. I also have a couple of books in progress – The Humor Code by Joel Warner and Peter McGraw and One More Thing by B.J. Novak that I may pick up if I need to feel like I'm finishing books quickly.
Woohoo! Saturday can't come fast enough.