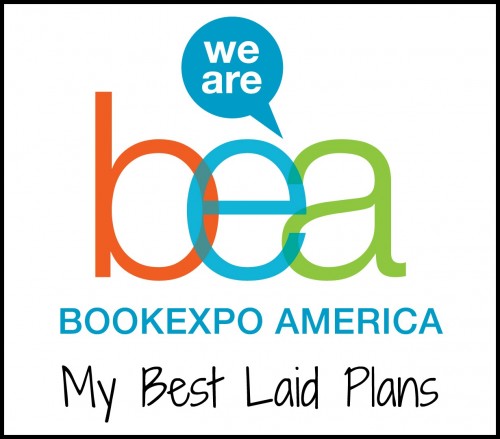 I can't quite figure out where the month of May is going. In four days I"ll be on my way to New York City to attend Book Expo America, the publishing industry's biggest event of the year. This will be my fourth trip to BEA, but I still never really feel prepared.
I've been slowly going through the jam-packed schedule to pick out the books and events I'm looking forward to this year.
I'll be arriving in New York City on Tuesday afternoon. Wednesday is BEA Bloggers, a day of programming that's supposed to be focused on book blogging. I went to BEA Bloggers two years and really, really wasn't impressed with the result. I'm hoping that a couple of years of feedback will have improved the programming and general focus of the conference to be on things bloggers want to hear about rather than the things publishing wishes bloggers to want to hear about. I'll keep you posted.
My plan is to spend Thursday and Friday up at Javits going to book signings and education sessions. I don't have a huge list of "must grab" books, but I am excited about a few:
Daring: My Passages by Gail Sheehy (Table 19)
The Men We Reaped by Jesmyn War (Booth 1749)
Glory O'Brien's History of the Future by A.S. King (Table 15)
Dangerous Odds by Marisa Lankester (Booth 1426)
The Memory of After by Lenore Appelhans (Table 18)
Belzhar by Meg Wolitzer (Table 3)
The Three by Sarah Lotz (Table 16)
A Deadly Wandering by Matt Richtel
On Immunity by Eula Biss
Geek Sublime by 

Vikram Chandra
Another big part of BEA is the Education Sessions, basically panel discussions about different aspects of publishing. I didn't get to may when I was at BEA in 2012, but I'm hoping to get to several this year as timing permits. Here are a few that caught my attention:
And finally, you can also catch authors and panels at a couple of stages up on the expo floor. These are interesting (and a great way to rest your feet for awhile). If the timing works out, I'm going to try to head to these panels:
All that listed, so much of my past experience of BEA has depended on my mood. If lines are too long or crowds are too big, I will find something else to do. And some of my favorite books from the conference have been titles I picked up just casually chatting with representatives at the various books in the expo floor. So really, who knows what the conference will look like — that's part of the fun!