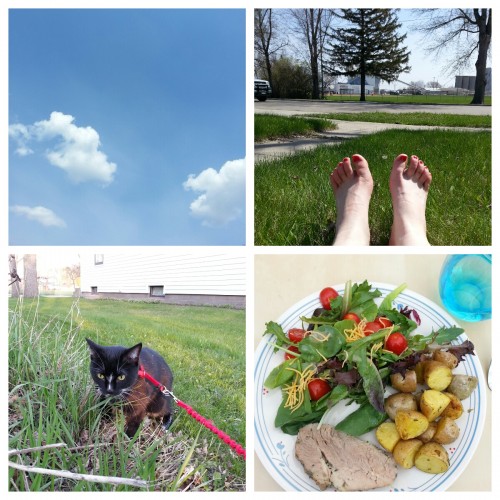 Briefly // Yesterday was the first perfect summer Saturday of the entire year and I could not be more blissed out about it. All of the photos above are from yesterday — blue skies, relaxing in the yard after doing a morning of garden cleaning, and hanging out with Hannah outside with an awesome dinner of pork, potatoes, salad an wine. Today promises to be just as gorgeous.
Time and Place // 8:45 a.m. at my desk
Eating and Drinking // Just some Tzao Awake English Breakfast tea for the moment
Reading // Overall it was a decent reading week. I spent a lot of time with Perfectly Miserable: Guilt, God and Real Estate in a Small Town by Sarah Payne Stuart (June 12 from Riverhead) before realizing I didn't love it enough to include in an upcoming Bloggers Recommend newsletter. After that I needed a reading reset so I started and finished We Were Liars by e. lockhart, a buzzy summer title, in one long evening. It was an awesome read. Since then I've been jumping back and forth between The People in the Trees by Hanya Yanagihara and Rock Breaks Scissors by William Poundstone (June 3 from Little, Brown).
Watching // The most exciting television of the week was the season finale of Arrow, which played with my heart so much. I still have hope for Oliver and Felicity.
Listening // I also finished the audio book of Veronica Mars: The Thousand-Dollar Tan Line this week. If you enjoyed the show and/or the movie then definitely pick up this book — it's a really fun addition to the whole world of Veronica Mars.
Appreciating // Thank you to everyone for your kind words on my sixth blogiversary post. I love when personal posts like that bring out people who don't comment as frequently — it's a nice way to get back in touch with my community of readers.
Blogging // Since I last did a Currently post I wrote about The Empathy Exams and Console Wars, shared more nonfiction recommendations, and admitted how many books I've bought in the last month. Thanks, also, for your suggestions on what to read next — at the push of Jenny (Reading the End) and Jeanne (Necromancy Never Pays) I grabbed The People In the Trees and it is not disappointing.
Promoting // Becca (I'm Lost in Books) shared some advice she'd give to herself as a new blogger that I thought was very smart.
Hating and Loving // I spent so long reading outside yesterday that I got a weird sunburn on my bent arms. I'm hoping to avoid that today.
Avoiding // It's my turn to do the dishes and there is a mountain waiting in our kitchen. I'm trying to psych myself up with the promise of a favorite podcast, Pop Culture Happy Hour, but I'm still dreading it.
Wanting // I'm so excited to leave for Book Expo America in nine days, but man, so I wish I had more time! I feel like the conference just snuck on up on me this year.
Anticipating // The boyfriend starts a new, full-time job, on June 2 where he won't be working weekends much anymore. I'm so excited for him and for us, but I can already tell it's going to be a transition from having weekends mostly to myself. This was his first weekend off and it was wonderful and challenging all at the same time.
Happy Sunday, everyone! What are you reading today?