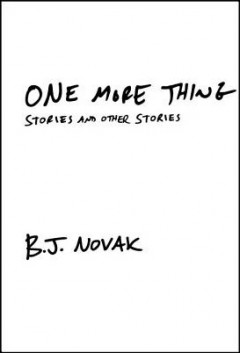 B.J. Novak was one of the authors I was most excited to see at the LA Times Festival of Books. For one, he was a writer/actor on one of my favorite shows, The Office. And for two, Florinda (The 3R's Blog) told me his first collection of short stories was worth reading, even for someone like me who isn't normally enamored with short fiction.
Florinda and I saw Novak "in conversation" with LA Times movie critic Kenneth Turan at the festival, and he described One More Thing: Stories and Other Stories as uncollected thoughts, which I think is a lovely description of this collection. The stories in One More Thing range in length from a couple of sentences to up to 20 pages, but manage to bring a consistent sense of gentle, wry and sarcastic humor.
Many of my favorite stories in the collection were pieces that took a particular concept or character and extended them to the extreme but logical conclusion: What if the hare demanded a rematch with the tortoise? How much money could you make if you had a nickle for every cup of coffee you spilled? What would a comedy roast of Nelson Mandela look like? What if you told a story about Wikipedia Brown instead of Encyclopedia Brown? They're odd little questions, but offer some funny situations to explore.
One of the anecdotes that stuck with me from Novak's conversation is how he edited the collection. As he was writing, he would periodically scheduled live shows in Los Angeles. He'd read potential pieces from the book at the show, editing them as he got audience feedback, keeping only the stories that the audience loved or that he was sure would work better on paper.
I had that idea in mind as I was reading and I could absolutely tell that the pieces had a performance quality to them that I really enjoyed. They each had a distinct voice that I could tell was developed carefully. And the comedy beats in each story really did land for me. If I ever have an opportunity to do a brief reading, I think I'd want to choose one of these pieces.
Finding a short story collection that really hit the spot for me personally made me excited to keep trying the genre more deliberately that I have been before. I think my next collection will be The Last Girlfriend on Earth and Other Stories by Simon Rick, but I would love to get more suggestions from you!