Finally, the post from Book Expo America with all of the books! I had mixed success grabbing the books I was curious about from the show, but found several others I'm looking forward to reading. Below are 12 of the books I'm most excited to read, followed by some quick thoughts on the other books now gracing my bookshelves.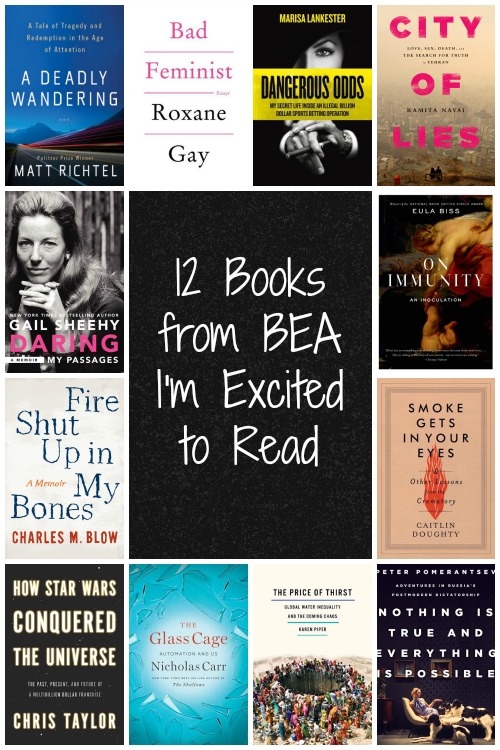 A Deadly Wandering by Matt Richtel (Sept. 23 from William Morrow): This is a piece of narrative nonfiction by a Pulitzer Prize-winning journalist (see why I picked it up?) about the dangers of texting and driving. The book has two threads, one the story of a man who killed two rocket scientists while texting, the other about the science of attention and the impact of technology on our brains.
Bad Feminist by Roxane Gay (Aug. 5 from Harper Perennial): Technically, I didn't snag this book at BEA — it arrived in the mail the day after I got home — but it was one of the books that the Harper Perennial marketing folks featured during a preview event. These essays feature politics, criticism, feminism and pop culture. I can't wait to read it.
Dangerous Odds by Marisa Lankester (May 21 from Cappuccino Books): This one is described as a "true crime thriller memoir," an inside tale of one woman's experience behind the scenes in the world of illegal sports betting. I'm really curious about this story!
City of Lies by Ramita Navai (Sept. 9 from PublicAffairs): The Tehran we seen in the news is only part of the story. In this book, Ramita Navai explores the lives of ordinary people in the city — "the porn star, the ageing socialite, the assassin and enemy of the state who ends up working for the Republic, the religious militiaman who undergoes a sex change, the dutiful housewife who files for divorce, and the old-time thug running a gambling den."
On Immunity by Eula Biss (Sept. 30 from Graywolf Press): On Immunity was one of the books featured in this year's BEA Editor's Buzz Panel. The slim book is an exploration of vaccinations and our ideas about what immunity means and how it connects our bodies and our communities.
Smoke Gets In Your Eyes by Caitlin Doughty (Sept. 15 from W.W. Norton): I was so excited about this book, a memoir by a woman who worked in a crematory, I started reading on the plane ride home from New York. I'm only about 40 pages in, but so far it's great — she's managed to include references to both Puppy Surprise and Pogs, which warms my heart.
Nothing Is True and Everything Is Possible by Peter Pomerantsev (Nov. 11 from PublicAffairs): This book reminds me a little bit of City of Lies in the sense that is is a book that goes inside a generally close society. In this case, the society is modern Russia, specifically the way new money and new power is fostering major changes.
The Price of Thirst by Karen Piper (Oct. 1 from University of Minnesota Press): I like hthe brief description from the publisher, so I'm just going to borrow it — "Karen Piper leads us through the frightening landscape where thirst is political, drought is a business opportunity, and multinational corporations control our most necessary natural resource. Visiting the hot spots of water scarcity and the hotshots in water finance, Piper shows what happens when global businesses buy up the water supply and turn off the taps of people who cannot pay."
The Glass Cage by Nicholas Carr (Sept. 29 from W.W. Norton): I'm actually a little apprehensive about this book, a look at the way automation — factory robots, self-driving cars — is changing how we interact with the world. Carr's last book, The Shallows, was a bit of an alarmist book about the horrors of the Internet, so I'm curious about the tone of this one.
How Star Wars Conquered the Universe by Chris Taylor (Sept. 30 from Basic Books): This one just sounds like fun. — "Veteran journalist Chris Taylor traces the series from the difficult birth of the original film through its sequels, the franchise's death and rebirth, the prequels, and the preparations for a new trilogy." Pop culture, history and business are my jam.
Fire Shut Up In My Bones by Charles Blow (Sept. 23 from Houghton Mifflin Harcourt): Charles Blow is a New York Times columnist, and this is his first memoir. The book explores the small Louisiana town where he grew up, the abuse he suffered from a cousin, and his coming-of-age in a black fraternity at a state university. I think this is going to be a tough but important read.
Daring: My Passages by Gail Sheehy (Sept. 9 from Harper): Memoirs by lady journalists are my kryptonite, so you have to know that this is a book I was excited to get my hot little hands on it. In the book, Sheehy explores her time as a groundbreaking girl journalist making her way in a man's world. I can't wait.
The Rest of My Books, Briefly
If you were paying close attention to that list, you'd have noticed a striking similarity among several of the books (aside from the fact that they're all nonfiction):
I brought home 29 upcoming releases from BEA 2014. Of those, 21 have publication dates in September. That seems crazy, right?

— Kim Ukura (@kimthedork) June 7, 2014
That is not an exaggeration. Of the 37 books that I brought home (not everything was a new release), 21 are books coming out in September. For those curious, the stack on the right is September releases, while the stack on the left is everything else I brought home.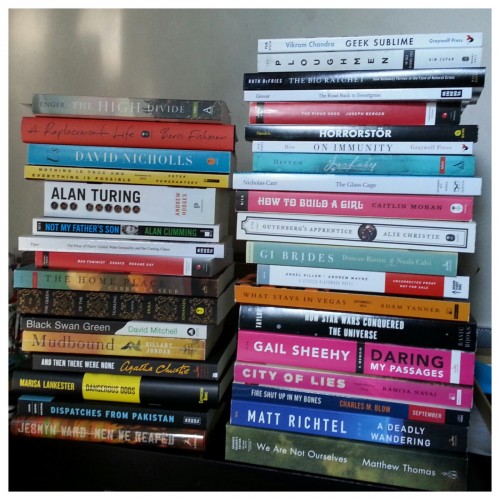 If you have questions about any of the other titles, let me know in the comments!