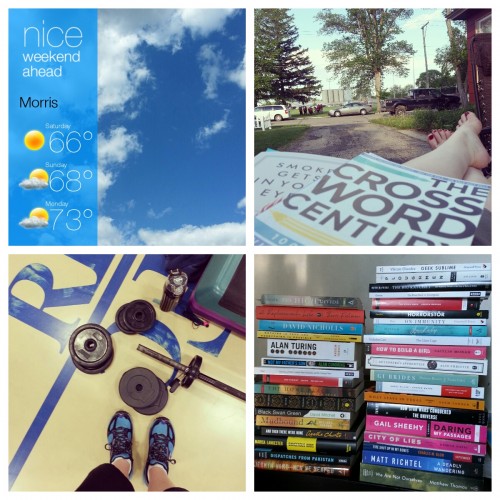 Briefly // The boyfriend started a new, full time job at a manufacturing facility here in town, which means he's up early in the morning and not working on nights and weekends anymore. It's a transition for both of us, but I'm excited about it.
Time and Place // 9:45 a.m. at my desk
Eating and Drinking // Cranberry Blood Orange Tea, blueberry Greek yogurt, strawberries
Reading // It's been a quiet reading week. I think seeing the pile of books from Book Expo America sitting on my desk (37, if I am counting correctly) has put me into those READ ALL THE THINGS modes where I flip between books without really getting anywhere. When I have been able to sit down, I've been picking through On Such a Full Sea by Change-Rae Lee (from the library!), Smoke Gets In Your Eyes by Caitlin Doughty (Sept. 15 from W.W. Norton), and The Crossword Century by Alan Connor (July 10 from Gotham). I'm hoping to find time to just sit and finish a book this afternoon.
Watching // My sister and I are rewatching Merlin this summer. We got through the first four seasons a couple of years ago, but then were too sad about the show ending to watch the fifth season. Jenny finally decided to just go for it and I'm copying her. Other than that, I'm trying to cut back on television for the summer… so not much to report!
Listening // I finished a wonderful, frustrating, outrageous audio book this week — Detroit: An American Autopsy by Charlie LeDuff. I loved LeDuff's style of outraged, gonzo journalism, even as my heart was breaking for the situation in Detroit. It's a good one and works quite well on audio.
Blogging // This week I shared my May reading wrap-up and looked ahead to June. I also shared my first recap from BEA. If all goes well today, I'll get my BEA books post and my second recap post ready to go, along with a review of… something. I'm not sure what yet.
Promoting // I thought this post from NPR Monkey See — Do Female-Named Hurricanes Need to Lean In? — was hilarious. And this post from the Feminist Texan — On Divergent, Sex and Assault — interrogates a part of that movie that I found really troubling.
Loving // It's been a really beautiful week in Minnesota. We had a bit of rain, but when the sun has been out it's been gorgeous. I feel like I should just change this particular prompt to "Reacting to the Weather."
Hating // I finally got back to the gym yesterday after way too many weeks off. It was good, but wow, am I sore today!
Avoiding // We're having friends over for a game night tomorrow, so we need to get our house cleaned up. It shouldn't take too long, once we get started.
Anticipating // I love the feeling of Sunday just stretching out in front of me. I'd really like to get myself organized today — get books put away, get a plan for the blog in place, and get started on all of the books I am excited to be reading!