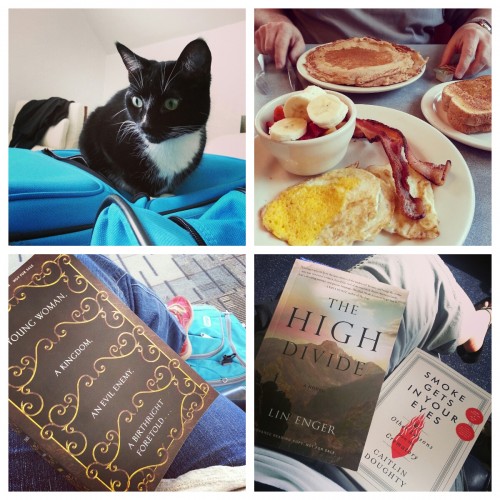 Briefly // I got back to Minnesota from my amazing trip to New York City for Book Expo America last night at about 9:30 p.m. I spent the night at my parent's house and will make the rest of the trek back home this afternoon. I'm planning a couple of different posts on BEA this week, so don't worry, you'll get all the details.
Time and Place // 10:30 a.m. at my dad's computer in the Twin Cities.
Eating and Drinking // Nothing yet, but my mom is in the middle of making a pancake breakfast for all of us. The photo above is from breakfast on the way to the airport on Tuesday with my dad.
Reading // I actually got some reading done this week. I finished The Good Spy by Kai Bird (the story of US spy Robert Ames) before I left. On my plane ride out to New York I read and finished The Queen of the Tearling by Erika Johansen (July 8 from Harper), the first in a big new fantasy series. I thought it was good plane reading, but probably not great literature just yet.
On the way home I started The High Divide by Lin Enger (historical fiction, Sept. 23 from Algonquin Books) and Smoke Gets In Your Eyes by Caitlin Doughty (memoir, Sept. 15 from W.W. Norton). I'm not far enough into either to have an assessment, but I am excited to keep reading.
Watching // I'm excited to get home and catch up with Orphan Black — the boyfriend and I have the two most recent episodes waiting for us!
Listening // I started a new audio book, Detroit: An American Autopsy by Charlie LeDuff. I think I'll be listening to that on my drive home today.
Blogging // It was, predictably, a quiet week on the blog. I answered a few questions as part of introductions for Armchair BEA and shared some thoughts on a short story collection, One More Thing by B.J. Novak.
Promoting // I was featured on Book Bloggers International this week. If you head over to the post, you'll get to read the story behind the name "Sophisticated Dorkiness."
Anticipating // I'm excited to get home to see my boyfriend and my cat and to unpack all of my new books! June is going to be a great month, I can already tell.
Happy Sunday, everyone! What are you reading today?