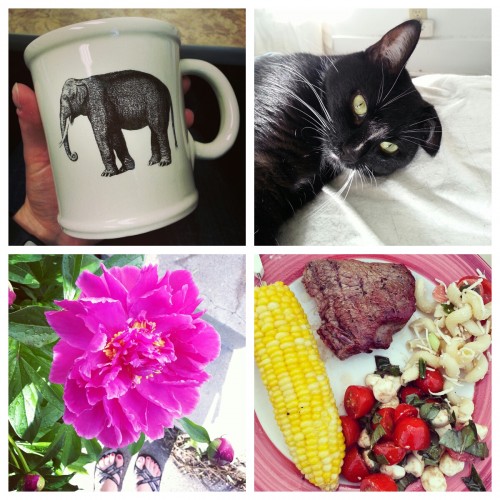 Time and Place // 8:10 a.m. at my desk
Eating and Drinking // Blood orange cranberry black tea and cherries (I love cherry season so much). I'm still thinking about the awesome dinner we had last night — steak, sweet corn, and two types of salad. Yum.
Reading // After a slow reading week, I sat down yesterday and made myself finish a couple of books I've been working on for a Book Riot piece going up this week, Smoke Gets In Your Eyes by Caitlin Doughty (Sept. 15 from Norton) and Nine Years Under by Sheri Booker. It was a bit of a morbid day, since both books focus on life in the funeral business. I'm not sure how much recreational reading I'll get done this week — I was asked to be a reader for a regional literary magazine and I have quite a few submissions still left to read before my deadline on July 1.
Watching // The boyfriend and I watched Wes Anderson's The Grand Budapest Hotel last night and I thought it was really delightful (and so very much a Wes Anderson movie).
Listening // I'm still working my way through Siege and Storm, the second book in Leigh Bardugo's Grisha Trilogy. The third book, Ruin and Rising, came out on Tuesday, so I'll jump into that next.
Making // I have a couple of thriving basil plants, so last night we made a tomato, mozerella, basil and balsamic salad. It was so great.
Blogging // This week I posted a couple of short audio book reviews and a pretty lengthy piece on the idea of blogging for books versus blogging because of books. The comments on that second post have been really fascinating to read. I'm still catching up on replying, another project for today.
Hating // The boyfriend and I live in an old rental house with old appliances. Right now, the refrigerator is driving me nuts — it's got a broken shelf and there's water dripping from something that's pooling in one of the vegetable drawers. Every time I open it I just sigh.
Loving // Our rental also has some unruly gardens out front and along the driveway. They're a bit of a mess — gardening isn't really my thing — but I do love when some of the big flowering bushes open up like they did this week.
Avoiding // At the beginning of the month I issued myself a personal challenge to not buy anything new this month. I faltered a little bit last weekend when I was in the Twin Cities — I got that new mug pictured above for work — and was tempted by some clothes online, but it's largely been successful. I'm hoping I can keep up the cutback in spending through July too.
Wanting // Despite having way too many books, I'm getting a little antsy to buy some new ones! My birthday is in July, so I think I'll splurge a little bit on some new titles — still deciding which ones!
Anticipating // Our trip to the lake for the Fourth of July is two weeks away, but I am still excited! Like the crazy person that I am, I've already started putting together the stack of books I want to take. I'll be sure to share that before we leave.