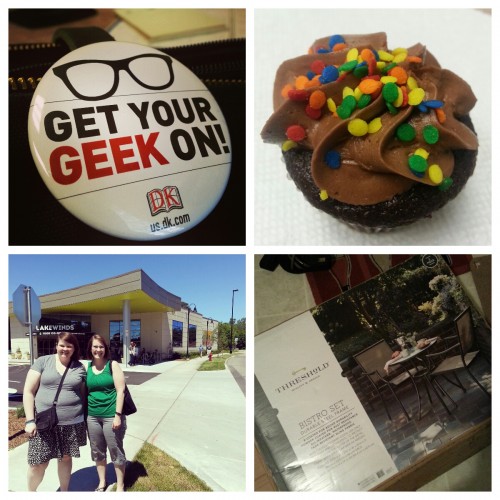 Time and Place // 7:20 a.m. at my desk
Drinking // Green tea (delicious, but perhaps not the caffeine content I need this morning)
Reading // I spent a lot of time this week reading creative nonfiction submissions for a regional literary magazine. When I wasn't doing that, I flipped between a couple of books: Hidden America by Jeanne Marie Laskas and The People in the Trees by Hanya Yanagihara. I will finish one of these books this week. 
Watching and Listening // On Friday, the boyfriend, a friend and I randomly watched Broadway Idiot, a documentary about the making of a Broadway musical out of Green Day's American Idiot album. Since watching, I've been listening to the original cast recording of American Idiot — their versions of "21 Guns" and "Wake Me Up When September Ends" are gorgeous.
Building // While I was at home this weekend, my mom and I made a trip to Target where we could my birthday present — a little patio table and chairs for our backyard. I starting putting them together last night, but I have some work for later today.
Blogging // This week on the blog I posted a brief review of The Map Thief by Michael Blanding, interrogated my bookshelves, and shared some of my favorite memoirs.
Enjoying // This list of 24 Things We Unexpectedly Became Obsessed With In our Late 20s made me laugh.
Reflecting // The boyfriend and I made a quick trip to the Twin Cities this weekend for a memorial service for my uncle, who passed away unexpectedly in April. I've been thinking about him, and the rest of my family, a lot in the last week. I remember what a warm and generous sense of humor he had, and I was so glad to meet and talk with other people who loved that about him.
Loving // One of our quick stops this weekend was to a new grocery store in Richfield that my sister helped to design. It was so cool to walk through a building and hear from her about some of the touches she helped with.
Anticipating // We leave for Fourth of July up at the cabin this Thursday afternoon. I'm in the middle of packing, cleaning, baking, and (most importantly) choosing the books I'm going to take with me. Long weekends at the lake are my happy place.