Whew! I started out this post thinking I could get all of my trip to New York for Book Expo America into one piece, but it was getting way, way too long. With that in mind, consider this the first of three posts I'll share on BEA.
Today's post includes traveling to New York, BEA Bloggers, and some thoughts on the expo floor. The second post will cover activities from Thursday and Friday night, as well as Saturday morning. And since I'm still waiting for some books I sent home via FedEx to arrive, so I'll have a third post highlighting some of the books I picked up.
Tuesday: Travel Day
I left for BEA bright and early on Tuesday morning. My dad and I stopped for breakfast on the way to the airport, but I still arrived with plenty of time to find my terminal and read a book. My read for the trip there was The Queen of the Tearling by Erika Johansen (July 8 from Harper), which I chose because I need something easy and absorbing for travel reading. Happily, my flight was smooth and arrived in New York with plenty of time before I needed to meet my roommate for the week, Florinda (The 3R's Blog), to get into the city.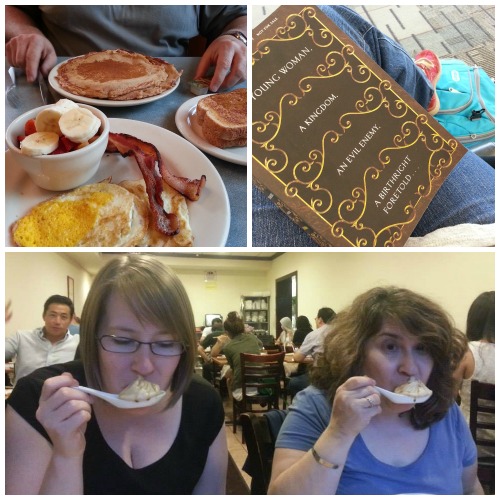 In the first of our (many) successful subway adventures, Florinda and I took the train into Manhattan from the airport, arriving at our hotel around dinner time. We met with our other dear blogging friend, Leslie (Regular Rumination), who escorted us out to Flushing for dinner at Nan Xiang Xiao Long Bao, a restaurant serving Shanghai cuisine. It was absolutely delicious, especially the soup dumplings (pictured above — thanks to Leslie for the photo).
Wednesday: BEA Bloggers and the Harper Fall Preview
Florinda and I both had tickets to attend BEA Bloggers, a book bloggers convention held one day before BEA proper. Although there were some good moments in the day, I was (again), largely disappointed by the conference. The ideas for the panels seemed better, but in large part they were badly executed — too many vendors and publicists, too few bloggers. But I don't want to spend this post bitching about the conference, so I'll direct you to a few posts that, I think, sum up the day pretty well: Books Speak Volumes, River City Reading, Fourth Street Review and The Daily Dosage.
I snuck out of the conference a little early to head over to a fall preview event hosted by HarperCollins. At the event, publicists from the various Harper imprints shared some of their big books for the fall season. I didn't take any pictures, unfortunately, but did list a few of the books I'm most excited about:
Liar, Temptress, Soldier, Spy by Karen Abbot (historical nonfiction about American women in the Civil War)
Rooms by Lauren Oliver (her first adult novel, about the fight between two ghosts and three siblings in an old house)
The Way Inn by Will Wiles (fiction, described as Up in the Air meets Inception)
Bad Feminist by Roxane Gay (essays on feminism and pop culture!)
Yes, Please by Amy Poehler (memoir, described as "Lean In but a hell of a lot more fun")
Not My Father's Son by Alan Cumming (celebrity memoir)
A Deadly Wandering by Matt Richtel (narrative nonfiction on the dangers of texting and driving)
After the preview, I went to a blogger party hosted by Harper, then had dinner with some blogging friends… still no pictures. I am such a lame blogger!
Thursday and Friday: The Expo Floor
Thursday and Friday were the two days I spent on the floor for BEA. During that time I visited some of my favorite publisher's at their booths, attended some autographings, and sat through a couple of education sessions. Rather than recap everything, here are six highlights in photos: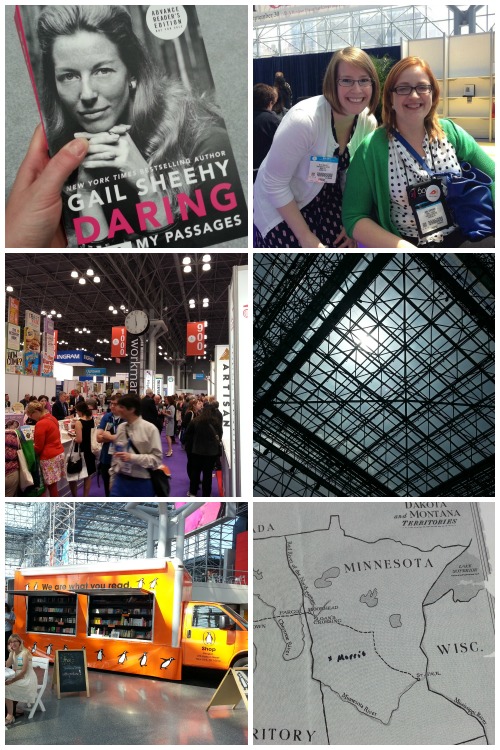 1. The first book I picked up was a signed copy of Gail Sheehy's upcoming memoir, Daring: My Passages. Lady journalist memoirs are one of my addictions.
2. I ran into a ton of my favorite bloggers on the floor including Jenn (Jenn's Bookshelves). Thanks to Book Riot colleague Cassandra Neace for the photo.
3. The floor was really crowded this year, I think because publishers were doing more author signings in their booths instead of in the designated autographing area. This photo of the Algonquin booth doesn't do the floor justice.
4. I think the Javits Center has a beautiful ceiling. That is all!
5. I love seeing the Penguin Book Truck out and about at BEA. You could buy books here, and there weer a few signings in the area.
6. One of the highlights of the expo floor was getting The High Divide signed by author Lin Enger. The book is set in the prairies of western Minnesota, so when I told Enger where I was from he actually knew the town! He marked down "Morris" in the map in the front of the book before he signed it which made my day.
I'll plan to cover more from the expo floor in my upcoming post about the books I grabbed, as well as a second recap covering some of the events of Thursday and Friday evening and my adventures in book shopping on Saturday.
If there are any specifics you are curious about, share your questions in the comments!