Five days at a book conference in New York City is a lot to recap in a single post. Hence, part two of my adventures at Book Expo America. This post includes evening activities on Thursday and Friday as well as my adventures in bookstore shopping (I know!) on Saturday before catching a plane home. You can read the first part of my adventures here. Be sure to stop back tomorrow when I share the books I brought home!
Thursday Night: Bloggers Recommend and Book Riot
Thursday night I had two engagements: a happy hour hosted by ladies behind Bloggers Recommend and a "family dinner" for Book Riot contributors who were in New York.
The Bloggers Recommend happy hour was a low-key event — just bloggers and a few publicist friends — at the Galway Hooker in the Village. I saw several great people there including Kerry, Nicole and my roommate Florinda and Lydia and Swapna. A personal highlight was meeting Farin (formerly of Gotham Books, now with Little, Brown Books for Young Readers) in person for the first time (top left). Thanks to Swapna for the great photos!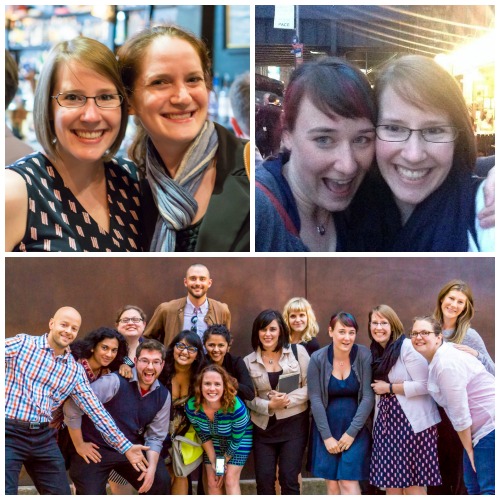 Swapna and I snuck out of the happy hour a little early to head over to The Half King for dinner with the Book Riot family. I've been writing for the website since it launched in October 2011 — it's so fun to see how the site has grown and to be part of a site that has such a strong editorial voice. I'm glad they keep me around, even if I've been a little lax on posts lately. The group at BEA is in the big picture above. And top right is me and Brenna (@mittenstrings) in our party cardigans.
Friday and Saturday and Going Home
Friday night Florinda and I went to see a play with Cassandra (@CassandraNeace), another Book Riot contributor. Before the play we had dinner and $6 martini's with Leslie (Regular Rumination), one of my very favorite book bloggers in the world. The play, The Realistic Joneses, was a little strange, but it was a fun experience. We got out late that night and were assaulted by neon lights in Times Square where I, obviously, had to take a selfie.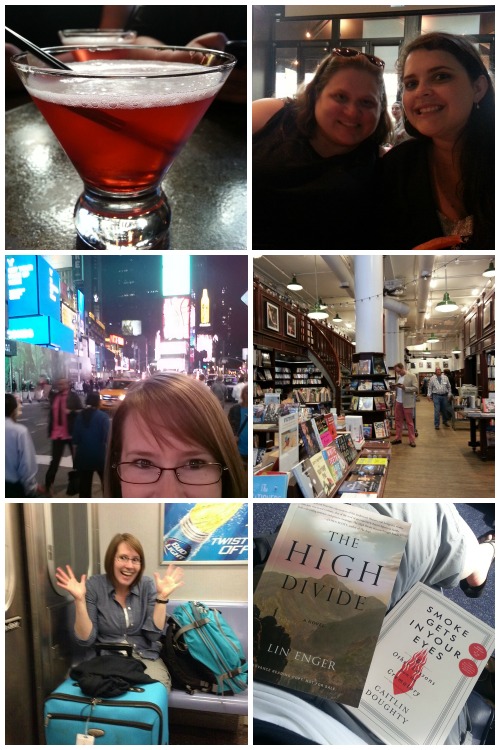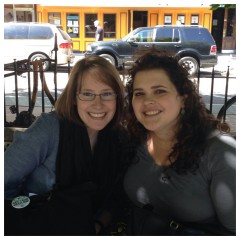 On Saturday morning, Florinda and I met up with Leslie again for brunch down in the Village. Afterwards, we made stops at two bookstores I hadn't visited before: Housing Works Bookstore and McNally Jackson. I generally restrained myself, getting just four books total: Mudbound by Hillary Jordan, Future Perfect by Steven Johnson, an ARC of Jackaby by William Ritter (Housing Works sells ARCs for $5 each), and Black Swan Green by David Mitchell. I'd say that's pretty restrained, right?
The bottom left photo is from my train ride back to the airport with Florinda. We were really successful navigating the subway during the trip, which I was excited about. I got to the airport with plenty of time to spare and with many great books to choose from. My flight arrived safely, I spent the night at my parents' house, then trekked home on Sunday. </BEA14>