Earlier this month, fellow Book Riot contributor Peter Damien shared this great comic from Tom Gauld: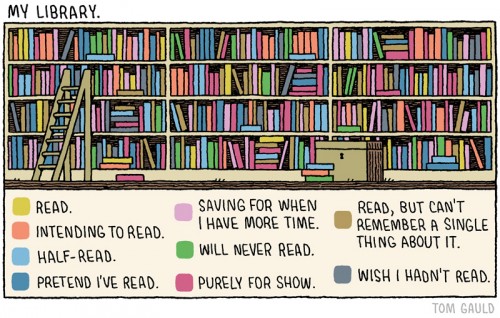 Peter went on to use it as a jumping off point to explore his own bookshelves. It was such a great idea that I'm shamelessly borrowing it for this post. Here's how my shelves stack up:
Read: There are a lot of these — more than 300 if my LibraryThing count can be trusted. The most recent book I added on LT was Nine Years Under by Sheri Booker.
Intending to Read: There are also a lot of these. One particular group is a stack of fiction (modern classics, mostly) on the shelf above my desk that I thought I was going to read this year but, so far, haven't started yet. The pile includes Lady Oracle by Margaret Atwood, Empire Falls by Richard Russo, The Namesake by Jhumpa Lahiri, My Antonia by Willa Cather, Behind the Scenes at the Museum by Kate Atkinson, Gilead by Marilynne Robinson, A Prayer for Owen Meany by John Irving and The Group by Mary McCarthy.
Half Read: I read a good chunk of Going Clear by Lawrence Wright before I got distracted and put it down. I'm also in the middle of The People in the Trees by Hanya Yanagihara, which I started before BEA and haven't gotten back to yet. It's silly, too, because I really was enjoying it!
Pretend I've Read:  I have my shelves pretty well separated by read and unread books. The one unread book hiding on a "read" shelf is The Illiad by Homer. I've read The Odyssey and wanted them shelved together… just haven't gotten to finishing it yet.
Saving For When I Have More Time: I bought Team of Rivals by Doris Kearns Goodwin and read part of it… but then it was taking too long. I need like a month for that one — it's like 950 pages!
Will Never Read: I've carried a copy of Atlas Shrugged by Ayn Rand around with me since I was like 14 years old. I want to think I'll read it, but I'm not sure I actually will.
Purely For Show: I've got one shelf of classics, most that I read in college. I probably won't reread Wuthering Heights or Great Expectations or Robinson Crusoe or As I Lay Dying, but I like having them around.
Read But Can't Remember A Single Thing About It: I know that I read We Were the Mulvaneys by Joyce Carol Oates when I was in high school, but I can't remember the plot. I think there's a rape that tears the family apart, but I can't be sure.
Wish I Hadn't Read: I'm pretty good about getting rid of books that I don't like — I couldn't find one on my shelves. But I do sort of wish that I hadn't bothered to read Nicole Richie's novel Priceless, even on a dare.