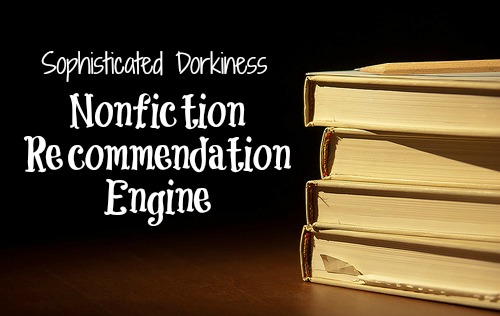 Life at my day job this week has been… strange, so I only have one recommendation to share today. But the request from Rhonda is a great one, so I'm excited to share it. Here's what Rhonda is looking for:
I read a lot of memoirs. I love fiction, but it has been a long time since I've been carried away. Many of the memoirs I read seem like they could have fictional elements… love those as well. Some that I've enjoyed are Angela's Ashes, The Glass Castle, The Gringo and anything by David Sedaris.
This one was a little tricker than I expected – I haven't read as many memoirs lately as I used to read – but after skimming through my Library Thing catalogue I came up with three that I thought were both out-of-the-ordinary and compulsive reads:
Brain on Fire by Susannah Cahalan – This is one of the scariest and most interesting memoirs I've read in a long time. When she was 24 years old, Susannah Cahalan experienced a "month of madness" when a rare autoimmune disorder nearly killed her. In the book, Cahalan uses her reporting skills to reconstruct her missing month based on medical records, interviews with friends and family and a journal her father kept during the ordeal. It's intense and wonderfully written.
Undress Me in the Temple of Heaven by Susan Jane Gilman – After her college graduation in 1986, Susan Jane Gilman and her friend Claire decided to take a trip to China, a country that has just recently opened up to tourists. The women soon discover they are well out of their league as novice travelers, particularly when Claire starts to behave strangely, leaving Susan to pick up the pieces. I originally listened to this one as an audiobook and coudn't pull myself away.
This Life Is in Your Hands by Melissa Coleman – This book was one of my favorite reads in 2011. Coleman grew up on a rural homestead on the coast of Maine in the 1970s with her parents, Eliot and Sue. The couple was part of a movement of people leaving behind society to life a simpler life. But the costs of their decision –  frenetic summers, long winters, and the daily pressure just to get through the day – result in some terrible consequences. This memoir is just stunning… ominous, elegant, honest and evocative. I read it in a single sitting.
Interested in getting a personalized nonfiction recommendation? Please fill out this form to get on the list. I currently have two requests in my queue, so any new requests should get answered within the next month.