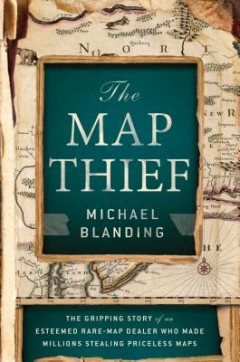 It's taken me forever to try and write a review for The Map Thief by Michael Blanding, which came out on May 29 from from Gotham. It was the book I chose for my May pick for Bloggers Recommend, but I've been having such hard time expanding on that little blurb:
In 2005, the small world of antiquarian map collectors was shocked to learn one of their own had been stealing maps from libraries around the world. This book illuminates the true story behind this high-risk crime and, along the way, engagingly exploring the complicated history of cartography, where maps have served as tools for navigation, props for political propaganda and, more recently, been coveted as works of art.
I liked The Map Thief because it is a great mixture of true crime and history where both the crime and the history are a little bit obscure — one of my favorite types of nonfiction.
The world of antiquarian map collectors is rather small and insulated, which makes the way E. Forbes Smiley III build his reputation as a collector then threw it away after being caught stealing maps from libraries and collections around the world stand out. Smiley is a man full of contradictions that Blanding explores in great detail. Blanding had cooperation from a vast array of sources, which makes his portrait of Smiley very detailed.
But perhaps even more interesting than the story of Smiley's thefts is the way Blanding weaves in a history of maps and mapmaking. Over time, maps have served a variety of purposes and have influenced decisionmakers around the world, depending on the particular biases or knowledge bases of their creators. It was interesting for me to think more critically about the way maps tell stories and show how our views of the world can be changed based on what we can see or not see.
The Map Thief was a quick but thought-provoking read — one of those light but juicy nonfiction books that I love reading in the summer. Get yourself a copy!
Other Reviews: River City Reading | Words for Worms | Julz Reads |  Doing Dewey |