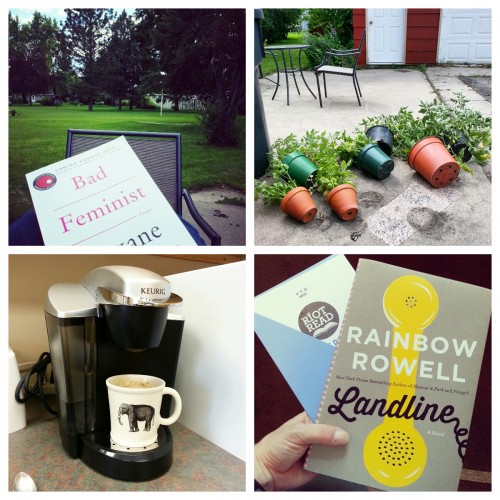 Briefly // The boyfriend and I are moving! We signed a lease on a new rental house last weekend and are gearing up to move into the new place on August 2. It's quick, trust me, I know. I'm not sure what that is going to mean for the blog over the next month or so, but I'm hoping it won't be too disruptive.
Time and Place // 8:25 a.m. on my sister's couch in the Twin Cities.
Eating and Drinking // Fage Greek yogurt and water
Reading // This week I finished three books, Bad Feminist by Roxane Gay, Happier at Home by Gretchen Rubin, and Rat Queens, Vol. 1: Sass and Sorcery by Kurtis Wiebe and Roc Upchurch. I'm still thinking about Bad Feminist, but honestly, I'm not sure if I loved it or not. Rat Queens is part of my foray into comic books thanks to ComiXology and the inspiration of Book Rioters Rebecca Schinsky and Amanda Nelson.
Watching // My sister and I finished watching Merlin together last night. The boyfriend and I rented 21 Jump Street on Friday (funny and dumb) and a friend and I went to see X-Men: Days of Future Past on Tuesday. It was a busy week of watching!
Listening // I'm still making my way through Unbroken by Laura Hillenbrand on audio. It's amazing so far. Hillenbrand knows how to tell a story, and Louie Zamperini has an amazing story to tell.
Buying // Since we're moving, I'm trying not to impulse buy any new books. But I did have a book on pre-order that arrived this week, Seconds by Bryan Lee O'Malley. This is a graphic novel about a young chef who discovers a way to have second chances on her life thanks to a magic mushroom. It sounds super fun. Also, the book for the Riot Read, a monthly book club from Book Riot, arrived — Landline by Rainbow Rowell. I want to start that one soon.
Blogging // This week I shared thoughts on two trilogies that I loved and some nonfiction recommendations on bananas and presidents.
Promoting // This tutorial on how to create bright and sharp phone photos from Elsie Larson at A Beautiful Mess was really helpful, since most of the photos I take casually are photos from my cellphone.
Hating // The prairie can get windy! Earlier this week I came home to see my container garden totally tipped over. The poor tomatoes.
Loving // We got a new Keurig for the office. I don't drink coffee, but it's fun to use to make tea and other specialty drinks. I had a lot of chai tea this week.
Wanting //I got it in my head that I really want to get a library book cart for my office at the new house. I think it'd be so fun to store review copies and whatnot on so I could keep track of them better.
Anticipating // I'm tentatively planning an unofficial "Nonfiction August" to start digging into the pile of books I brought home from Book Expo America that publish in September. I also haven't read any seriously amazing, mind-bending nonfiction in what feels like months — a nonfiction binge should help change that, right?