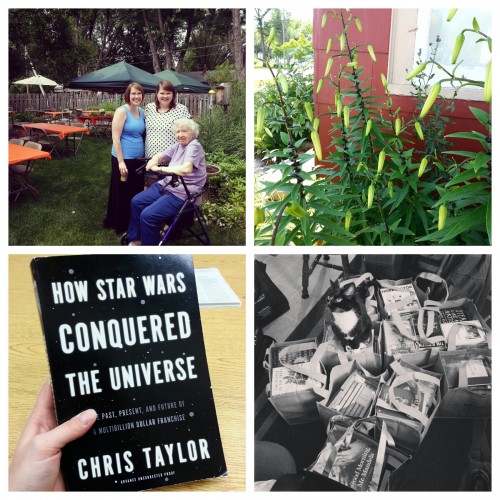 Time and Place // 9:50 a.m., for the last time at my desk in our current house. One week from today we'll be in our new place!
Eating and Drinking // Blueberry Greek yogurt and blood orange cinnamon black tea
Reading // I spent most of this week reading How Star Wars Conquered the Universe by Chris Taylor (Sept. 30 from Basic Books). I'm, at most, a casual Star Wars fan, but I absolutely adored this book, which looked at the history of the movies as well as the ways the movies have impacted popular and fan culture. It was fascinating. This morning, a also flew through the third deluxe edition of Y: The Last Man by Brian K. Vaughn and others (a hardcover collectors edition that combines #24–36 of the series into one book). Today I'm going to start re-reading The Magicians by Lev Grossman, in anticipation of the third book in the trilogy, The Magician's Land, coming out in August.
Watching // I've been doing a lot more reading than watching this week (huzzah!), but when I did have some down time I started with The Legend of Korra (the sequel to Avatar: The Last Airbender). I like exploring this universe with an older protagonist.
Buying // Last weekend — when I was home for my cousin's graduation party — I visited Half Price Books and picked up two titles, Flawless: Inside the Largest Diamond Heist in History by Scott Andrew Selby and Greg Campbell and Making Comics by Scott McCloud.
Blogging // Work was really busy this week, so it ended up being a quiet week on the blog, just some short reviews of The Good Spy by Kai Bird and Hunting Season by Mirta Ojito. I hope to get a post or two up this week, but with moving prep I'm not sure how much time I'll really have.
Contemplating // I blogger I really like, Kathleen Forbes (Kapachino) recently completed Whole30, a nutritional program that focuses on whole, healthy foods for 30 days as a sort of nutritional reset. Her before story sounds so much like what I am struggling with now — a little overweight, headaches, low energy, out of control eating — that I am going to  look into doing Whole30 myself.
Hating // Packing? Our packing has gone well, so far, but I'm tired already. I got almost all of the books packed — my goal today is to finish that up.
Loving // My favorite bookshelves are on sale at Target this week and (I think) we'll have room for another one in the new house. More shelves!
Wanting // One of the things I love about our current house is the beautiful tiger lilys in one of the gardens. I have my fingers crossed that they'll bloom before we move on Saturday.
Anticipating // I'm definitely going to focus on reading nonfiction in August, other than the three books in The Magician's trilogy. Some of the books I'm most excited about are Liar, Temptress, Soldier, Spy by Karen Abbot (Sept. 2 from Harper), On Immunity by Eula Biss (Sept. 30 from Graywolf Press), and What Stays in Vegas by Adam Tanner (Sept. 2 from PublicAffairs).