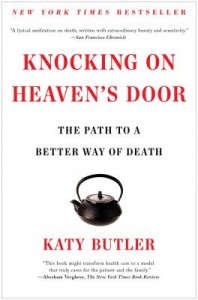 On Wednesday, I shared a post with three books on the business of death. After the post went up, Katy Butler, author of Knocking on Heaven's Door, contacted me about doing a giveaway of the book here at the blog. I loved the book (here's my review from last September) and think the book should get into more hands, so gladly accepted her offer.
Katy is offering five paperback copies of Knocking on Heaven's Door to readers in the United States. I also decided to provide one additional ebook version of the book as giveaway to international readers for a total of six copies of the book.
When you fill out the giveaway form, it'll ask you to choose one giveaway to enter — please pick the one that best fits where you live so the ebook can be exclusively for readers who can't have a book shipped to them. Thanks in advance for playing fairly.
Anyway, if you're interested in entering a giveaway for a paperback or ebook version of Knocking on Heaven's Door, please fill out this form. The giveaway will be open until the end of the day next Friday. Happy weekend!