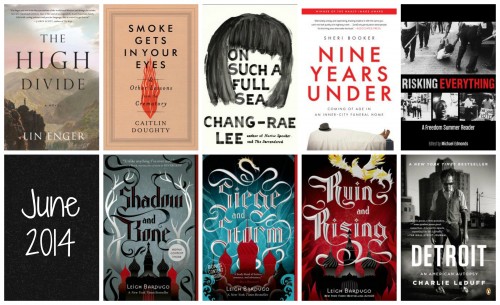 June has felt, to me, like a very unbalanced month. I got into a pattern of being really obsessed with one thing while ignoring all other things, then feeling bereft when the thing I was obsessed with came to an end. After a few days I'd switch to another thing to be obsessed with to continue the cycle. It was fun to spend time immersed in things, but ultimately it left me feeling a bit off-kilter.
As I look back on my reading this month, I can see part of the imbalance:
Enger, Lin: The High Divide (fiction) (Sept. 23 from Algonquin)
LeDuff, Charlie: Detroit: An American Autopsy (audiobook/nonfiction)
Bardugo, Leigh: Shadow and Bone (audiobook/YA fantasy)
Lee, Chang-rae: On Such a Full Sea (fiction)
Doughty, Caitlin: Smoke Gets in Your Eyes (memoir) (Sept. 15 from WW Norton)
Booker, Sheri: Nine Years Under (memoir)
Bardugo, Leigh: Siege and Storm (audiobook/YA fantasy)
Edmonds: Michael: Risking Everything (nonfiction)
Bardugo, Leigh: Ruin and Rising (audiobook/YA fantasy)
Look at all of those audiobooks! It's something like 40 hours worth of audio when normally I'm happy to finish one or two audiobooks. Part of the reason I spent so much time listening to books is because I got a FitBit and have been walking more and part is because I wanted to re-listen to a Shadow and Bone and Siege and Storm before the third book in the trilogy, Ruin and Rising, came out on June 17. I finished the trilogy (it was amazing!) and will have some thoughts to share on it next week.
I also didn't read a single review copy the entire month. I did pick up both The High Divide and Smoke Gets In Your Eyes from BEA, but I read them because I was excited, not because I felt like I "needed" to read them to hit a publishing deadline. That was fun. That said, a lot of the reading I did this month was for other projects — I'm hoping to have more "me" reading in July.
A Look to July
This summer is a big one for finishing up trilogies that I love. In June, the third book in Leigh Bardugo's Grisha trilogy, Ruin and Rising, came out. This month, the third book in Ben H. Winter's Last Policeman trilogy, World of Trouble, is hitting the shelves. And in August, the third book in Lev Grossman's Magician's trilogy, The Magician's Land, will be out. As such, there's been – and will continue to be – a lot of re-reading in my plans this month.
Aside from books in the series I already mentioned, here's what else I'd love to get to in July:
The Crossword Century by Alan Connor (July 10 from Gotham)
Bad Feminist by Roxane Gay (Aug. 5 from Harper Perennial)
Out With It: How Stuttering Helped Me Find My Voice by Katherine Preston (Atria Books)
Cycle of Lies: The Fall of Lance Armstrong by Juliet Macur (March 4 from Harper)
As always, this list is only a starting point for where my reading might take me this month – you never know what might happen. And since I'm heading out for a long weekend at the cabin tomorrow afternoon, I'll be starting the month with my version of beach reads. I'll have that post up tomorrow.