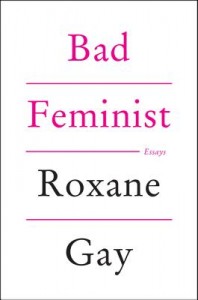 I want to get on the bandwagon of people who have loved Roxane Gay's debut essay collection, Bad Feminist (Aug. 5 from Harper Perennial), so bad that I've been tossing and turning my lukewarm reaction to the book around in my head for a couple of weeks, trying to figure out what I might be missing. What I've finally concluded is this: Bad Feminist is a relevant and worthwhile collection of essays, a collection I'm glad that exists, but a collection I think is organizationally flawed.
It would help, I suppose, to start out with the idea of being a bad feminist. For Gay, being a bad feminist means embracing feminism while also admitting to being human, messy, and flawed. Ultimately, the book argues, being a bad feminist is better than not being a feminist at all. This is from one of the concluding chapters:
Maybe I'm a bad feminist, but I am deeply committed to the issues important to the feminist movement. I have strong opinions about misogyny, institutional sexism that consistently places women at a disadvantage, the inequity in pay, the cult of beauty and thinness, the repeated attacks on reproductive freedom, violence against women, and on and on. I am committed to fighting fiercely for equality as I am committed to disrupting the notion that there is an essential feminist. …

Being a feminist, however, even a bad one, has also taught me that the need for feminism and advocacy also applies to seemingly less serious issues like a Top 40 song or a comedian's puerile humor. The existence of these lesser artifacts of our popular culture is made possible by the far graver issues we are facing. The ground has long been softened.
These ideas – feminism isn't an all or nothing proposition, people who are feminists make mistakes, feminism is still needed given the conversations about women and society we are still having – rang deeply true to me. The first few essays were so spot on in their criticisms of pop culture and politics that I thought for certain this would be one of those collections that bent my brain in a good way. Gay is such an elegant, eloquent writer – she's a pleasure to read on literally any topic.
But, unfortunately, the collection faltered for me as it approached the end. The essays are organized by theme – Me; Gender and Sexuality; Race and Entertainment; Politics, Gender and Race; and Back to Me – which seems like a good idea. The problem is that by the time I got to the fourth or fifth essay in a section, the arguments start to repeat themselves, just with different topics melded together.
The point where this organizational issue crystallized for me was "When Less is More," a critique of the television show Orange is the New Black. Basically, Gay argues against that implication that people of color should like all pop culture that is about people of color and that the show, largely, is not as good as the critical gushing implies.
My first reaction to the piece was (I am embarrassed to admit) annoyance… Are you kidding? Is nothing good enough? … I hate that I had this reaction. Hate it. I know that I'm able to have this reaction because of my privileges as an upper-middle class, white, college educated woman. I've had the opportunity to see my life experience reflected accurately in pop culture, rather than portrayed in a way that reinforces stereotypes and still privileges another story over mine. These are moments when privilege matters.
Intellectually, I also know that this essay is a good, important piece of criticism. And in the context of the broader critical conversation about Orange is the New Black, it provides a solid discussion on how to think about the show's portrayal of race more deeply than just, yay, acting roles for women of color! But in the context of this collection, following essays critical of Tyler Perry and Fifty Shades of Grey and The Help and "Blurred Lines," it felt exhausting.
And that's, I think, where I come up lukewarm on this book. The ideas in Bad Feminist are relevant and important and absolutely worth considering. But I wish that I had thought more about how to read this book before I started (or, that the publisher would have arranged it differently from the start). If I had, I would have approached it differently, spreading the essays out over a longer period of time, or jumping to read essays in different sections of the book.
Taken individually, the essays are great. Good feminists, bad feminists and questioning feminists will all find food for thought in this collection.
Other Reviews: Books Speak Volumes |