I am just getting into reading more comic books, and I know I have ComiXology to thank for it.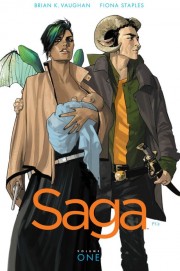 ComiXology is a "cloud-based digital comics platform" that I use to buy and read digital comics. I first started using ComiXology in April when the first three trade editions of Saga by Brian K. Vaughn and Fiona Williams went on sale ahead of the Readathon. I wanted to have some comics on hand and the recommendations were good, so I decided to try it out.
After a few months of dipping my toes into comics, I've discovered that I love using ComiXology for comics discovery, but despite great subscription options, I prefer read comics in trade editions.
Quick Notes on Terminology
If you're not familiar with comics lingo, this video from Amanda Nelson at Book Riot is a good primer. Basically:
Single issue: What you think of when you think of comics, like a magazine, 30 or 40 pages, with one part of a serialized story.
Trade paperback: Several single issues bound together in a single paperback. Spoiler alert, this is my favorite format for comics.
Deluxe edition: Several trade paperbacks bound together into a fancy hardcover book. These often have lots of cool extras.
Comics Discovery on ComiXology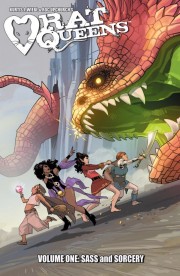 I really love that you can buy single issues of a comic for anywhere between $.99 and $2.99 through the ComiXology app. These single issues are usually around 30 pages and help me get a sense of whether a comic is something I'll enjoy reading. And I love when I can catch up with a series by reading several single issues in a row, like I've been doing with Rat Queens and Sex Criminals.
I read most comics on my tablet (Samsung Galaxy Note). It's big enough that I can look at full pages if I want to, but one of my favorite features of the ComiXology app is their "Guided View" technology. Basically, instead of showing full pages, the app will slides you through one frame at a time the comic book. I love this feature – for me, it makes a page of text and images seem a little less intimidating.
Advancing to Trades 
Once I'm caught up with a series, I find single issues frustrating. ComiXology does make it easy to subscribe to a story – it'll automatically purchase each new issue when it comes out and send you a notification when there's a new issue available. I tried doing that with Saga after I got caught up with the entire run, but it just wasn't very satisfying.
Single issues remind me of an episode of a television show – without another episode soon after, I lose threads of the story and can't enjoy it as easily. I'd much rather buy five or six single issues bound together in a trade edition – they're great digitally, and fun to buy in hard copy as well, if it's a series I know that I like.
ComiXology (and comics publishers) is pretty great at offering sales on some of their different titles, which can make it inexpensive to jump in and try something new. This week, for instance, Boom Studios is having a sale on comics with strong leading ladies – I grabbed Steed and Mrs. Peel Vol. 1, The Many Adventures of Miranda Mercury, Supurbia Vol. 1 (all trade editions) and Hacktivist #1 (a single issue) for less than $15 total.
Stand Alone Stories and My Library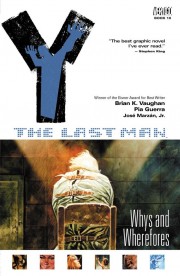 Another place where I have been exploring comics for free is through my local library, which has a pretty decent collection to choose from and connections to a well-stocked library system.
Most of the comics available at the library are trade editions, stand alone graphic novels or graphic memoirs, or deluxe editions. Through the library I've been reading Brian K. Vaughn's Y: The Last Man series in the deluxe editions and have plans to pick up several others I've seen on the shelves – The Undertaking of Lily Chen by Danica Novgorodoff, Boxers and Saints by Gene Luen Yang, and This One Summer by Mariko Tamaki and Jillian Tamaki.
One of the areas I want to start exploring more is (you guessed it!) nonfiction comics. I know that there's a pretty extensive range of graphic memoirs – Fun Home by Alison Bechdel, Blankets by Craig Thompson, Tangles by Sarah Leavitt – but I'm not sure what offerings there are for more traditional nonfiction told through comics. I'm going to keep looking for those options because I've had so much fun jumping into the world of comics.
What are some of your favorite comics or graphic novels?