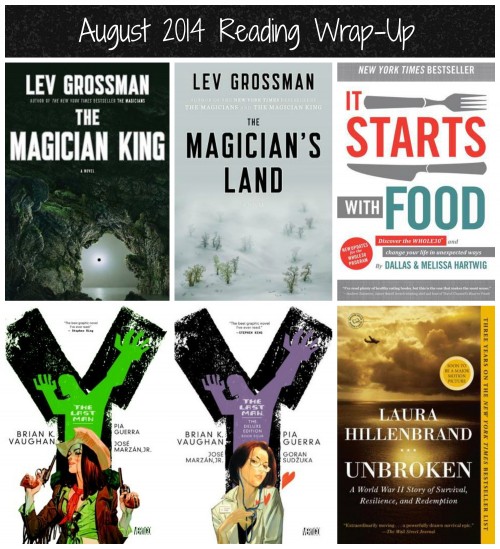 In terms of reading (and let's be honest, blogging), August was pretty much a bust. After reading a ton in July, I just didn't have the mental space for many books this month. And you know what? I'm entirely ok with that. Reading goes in cycles and you just have to go with the flow — or watch too many episodes of The Good Wife and Suits —  until the reading mojo comes back.
When I was actually reading, I finished several good books:
Grossman, Lev: The Magician King (fiction)
Grossman, Lev: The Magician's Land (fiction)
Hillenbrand, Laura: Unbroken (nonfiction/audio book)
Hartwig, Dallas and Melissa: It Starts With Food (nonfiction)
Vaughn, Brian K: Y: The Last Man — The Deluxe Edition Book Three (comics)
Vaughn, Brian K: Y: The Last Man — The Deluxe Edition Book Four (comics)
I haven't written about it much yet, but I can say unequivocally that my favorite reading experience of the month was finishing Lev Grossman's Magicians trilogy. Getting to read them back-to-back was so great, and Grossman really ended the trilogy on a high note with The Magician's Land. This series is truly one of my favorites (for intellectual and nostalgic reasons).
A Look to September
September is the craziest month for new releases. I have a ton of them on my shelf that I'm excited about (some that I mentioned last month, and others that I highlighted when I got back from Book Expo America). I also shared some I'm excited about in a fall book preview I wrote as a freelance piece.
At the moment, however, I'm mostly looking forward to the books I packed to take up to the cabin for Labor Day weekend. The weather isn't looking especially promising, but maybe that'll mean I get to spend some quality time on the couch with a good book. Here's what I packed:
What Stays in Vegas by Adam Tanner (Sept. 2 from PublicAffairs) — How private corporations are using big data in targeting consumers.
City of Lies by Ramita Navai (Sept. 9 from PublicAffairs) —  The true stories of "ordinary people forced to live extraordinary lives in modern Tehran."
Stone Mattress by Margaret Atwood (Sept. 16 from Nan A. Talese) — New short stories from Margaret Atwood. I adore her so much and Rebecca at Book Riot raved about this one. I can't wait!
This One Summer by Mariko Tamaki and Jillian Tamaki — I had this one out from the library earlier this summer, but didn't get to read it. I want to remedy that this weekend.


Well Fed: Paleo Recipes For People Who Love To Eat

by Melissa Joulwan — I'm six days into my Whole30 and I'm looking for more recipe ideas.
I feel like I need one more book, maybe some meaty fiction, but I can't think of what off the top of my head. I'll have to review my shelves one more time before we hit the road later today and see what catches my eye.
What books are you looking forward to in September?