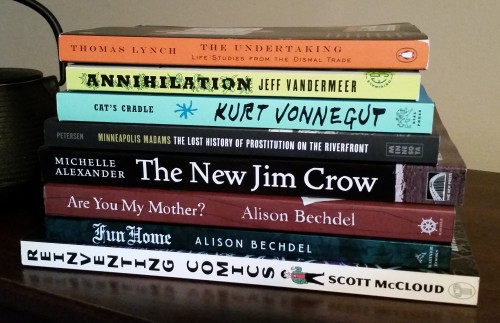 I was really good about not buying more books in the month or so up to our move at the beginning of the month… but then I sort of lost my mind and bought a ton of new books. In my defense, I got to visit three different bookstores when I was in the Twin Cities last weekend and I cannot resist books in bookstores.
The first stop was Common Good Books in St. Paul, the bookstore that Garrison Keillor owns. After meandering for quite awhile, I came across two titles that I'm really excited about:
Later that evening, I met another friend at a local Barnes and Noble to wander around before our 10 year high school reunion. Despite my best efforts to only buy one book, I came out with three:
While there, I managed to convince my friend to pick up The Sparrow by Mary Doria Russell and tried to sell her on The Magicians by Lev Grossman (but they didn't have it in stock – sad!).
Finally, on Sunday I made a quick stop into Half Price Books to check out their comics section. I hit a bonanza, grabbing three titles:
Last week I also ordered a couple of books online (not pictured above) because I was just so dang excited to read them. They arrived right before my trip:
Whew! Ten new books in the first 12 days of the month. I have a problem. Which ones should I pick up first?