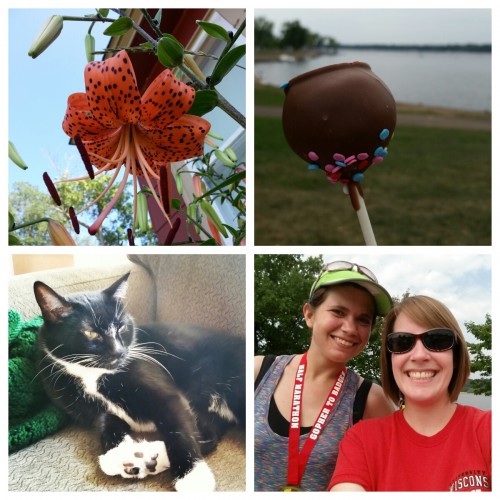 Time and Place // 9:30 a.m. at my desk in my office (an actual separate room) in our new house. Last weekend, I was in the Twin Cities to cheer on my friend Erin in a half marathon. Then on Wednesday, I had to drive to the Cities again for a training. I put a lot of miles on my car!
Eating and Drinking // Greek yogurt with granola and black tea.
Reading // August has been, predictably, a slow reading month. I did finish The Magicians, The Magician King and The Magician's Land over the last few weeks and felt really satisfied with how this trilogy ended. I can't wait to find an excuse to reread them again. Since then, I've been having trouble settling into a good book — I'm hoping to remedy that today with either What Stays in Vegas by Adam Tanner or A Deadly Wandering by Matt Richtel. 
Watching // The boyfriend and I started watching The Americans yesterday — super tense and super good so far!
Listening // On one of my long drives to the Twin Cities I finished Unbroken by Laura Hillenbrand. I also started The Cuckoo's Calling by Robert Galbraith.
Buying // I went on a bit of a book buying binge the last few weeks, which I detailed in it's own post this week.
Blogging // The blog has been quiet this month, but I'm hoping to get back in the swing of things soon.
Contemplating // I skimmed through most of It Starts with Food by Dallas and Melissa Hartwig over the last couple of days. The book is an overview of the Whole30 Program, a Paleo-inspired food program designed to help kick bad food habits and replace them with good ones. My eating has felt out of control the last few months, so I am seriously considering this project.
Loving // It feels like it is taking a long time to get unpacked and settled, but I know it's because I've been really intentional about how we unpack — keeping in mind my One Little Word, curate. It's hard now (so many boxes!) but it'll be worth it in the long-term to have a house only filled with things that we use and love.
Avoiding // I have so many blog comments to catch up on. I'm probably going to give myself a mulligan and just start over from this post instead of trying to catch back up.
Wanting // Can I get another day in this weekend?
Anticipating // Both of my fantasy football drafts will take place this week, one on Tuesday night and the other next Sunday night. I haven't done any research… but it'll be fun anyway.