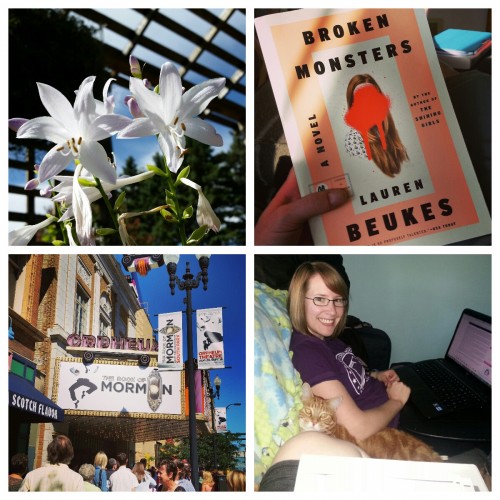 Time and Place // 8:25 a.m. at my desk working on my laptop, since I still haven't managed to get a new wireless card for my desktop computer. #procrastinator
Eating and Drinking // I've got my usual Whole30 (day 22!) breakfast again this morning: three fried eggs, an apple, Trader Joe's almond butter, and some cranberry blood orange black tea. I found some bacon with no added sugar when I was shopping last weekend, so I've added that to the eggs. It's an awesome addition.
Reading // I may have finally busted out of my reading slump! I made a point to keep the television turned off this week and instead focused on finishing a galley of Broken Monsters by Lauren Beukes (Sept. 16 from Mullholland Books). After that, I started a galley of Without You There Is No Us by Suki Kim (Oct. 14 from Crown), a memoir about teaching English to the college-aged men of North Korea's privileged class. It has a slow start, but it's picking up.
Watching // Last weekend I was in the Twin Cities to see The Book of Mormon with my sister. It was so very funny, but, as you'd expect with a musical by the South Park guys, incredibly offensive. On Sunday, we both settled onto her couch (along with her giant orange cat, Merlin) to watch the first games of the football season. I have many thoughts on the state of football right now… but that's another post.
Cooking // One of the things that I've enjoyed about my Whole30 experiment (30 days of only eating protein, fruits/vegetables and healthy fats) is that it's made me spend more time cooking. Nothing fancy, just enough to remind myself that yes, cooking simple meals is possible and more healthy that going out to Subway all the time.
Blogging // Last week I gushed about Margaret Atwood's new short story collection, Stone Mattress. This week I'm hoping to do some mini reviews of some September titles I've finished and perhaps share some more details about my Whole30 experience.
Promoting // The next Bloggiesta starts this Thursday, Sept. 18! While there are a ton of blog projects I could work on next weekend, I'd like to focus on updating my blog to a new theme and dealing with all of the annoying tasks that come with that process. I think this theme update is going to be a major pain, so it'll be good to set aside a few days to problem-solve.
Hating // Minnesota (and much of the Midwest) had a nasty cold streak this week. It was only 38 degrees one morning! It's supposed to warm up this week, thank goodness, because I am not ready for that.
Loving // The boyfriend's parents came to visit this weekend, which has been really great. In addition to spending lots of time eating good food, we took them out to see our local horticulture display garden and have plans to go to a movie this afternoon. It's been fun having them around — we don't get to see them much because they live pretty far away.
Wanting // The weather turning did get me in the mood for fall clothes. I am coveting a cool, comfy blazer kind of like this one, but less expensive. I'm also getting a lot of inspiration about adopting a minimalist wardrobe from this blog.
Anticipating // I have a haircut scheduled for next week. I love getting my haircut.
Happy Sunday, everyone! What are you reading today?