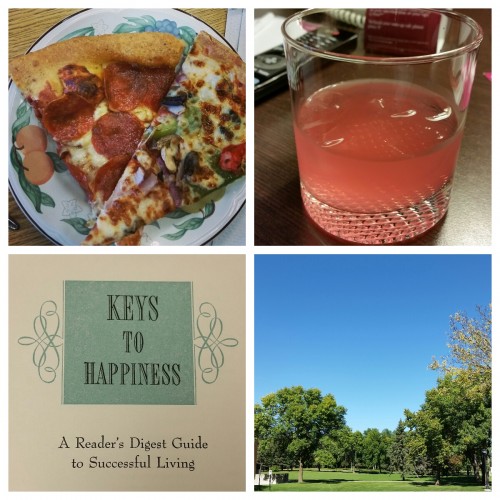 Time and Place | I'm writing this at about 9:15 p.m. on Sunday, but it's scheduled to go up Monday morning. I'm interpreting "currently" a little lose this week.
Eating and Drinking | After a month of super clean eating (thanks, Whole30) I went a little bit off the rails this week, first with pizza for lunch with my coworkers and then for a night out with my high school girlfriends that started with pink drinks and went from there. I definitely noticed that these foods weren't making me feel good, so I'm refocusing on a mostly Whole30 diet this week.
Reading | I had a quiet reading week, but it was spent with two excellent books so I'm not complaining. I'm really close to finishing On Immunity by Eula Biss (Sept. 30 from Graywolf Press), a look a fear, vaccinations and motherhood, and not-at-all close to finishing The Bone Clocks by David Mitchell. My library copy is due back soon, so I splurged on the hardcover at Barnes and Noble. New books!
Watching | I went down a rabbit hole with the sixth season of Castle and loved every minute of it. The theme song has been playing in my head almost constantly.
Listening | Since I had long-ish drives to and from the Twin Cities this weekend, I dove into a new audio book, The News: A User's Manual by Alain De Botton.
Making | I picked up a cross stitch project I'd abandoned for awhile and made some progress. I'm considering starting a ripple afghan with some of my loose yarn.
Blogging | It was a good week on the blog! I spent some time last Sunday night getting my categories cleaned up and managed to share two posts this week: some books in my mailbox this month and my experience with the Whole30 program.
Contemplating | In the spirit of minimalism and curating and simplifying, I'm really curious about the idea of a capsule wardrobe. I love this one from Caroline at Un-Fancy, and think her steps to get started sound really simple.
Surprising | I stopped by our library book sale this week — they leave the books out for a month after the sale for people to pick through — and found the most amazing little book, Keys to Happiness: A Reader's Digest Guide to Successful Living. This 1955 guide has essays like "Turn Your Sickness into an Asset" and "Danger — Gossips at Work" — amazing.
Loving | I'm in love with spending time with old friends.
Anticipating | The next couple of weeks are going to be pretty busy, but then I think I will have three weekends at home in a row. And one of those weekends is Dewey's 24-Hour Readathon!