One of the things that has stuck with me from Gretchen Rubin's book The Happiness Project is the idea of moderators versus abstainers. Rubin posits that some people are happiest when they moderate their behavior by allowing small indulgences every once in awhile. Other people, however, are happier when they abstain entirely from certain things – the constant debate about whether it's a good time to indulge is more taxing than just taking it off the table.
I've always thought of myself as a moderator. My experience over the last month with the Whole30 program, a nutritional approach developed by Dallas and Melissa Hartwig and outlined in their book It Starts With Food, taught me that I'm actually better off as an abstainer (at least when it comes to what I eat or don't eat).
Why read It Starts With Food?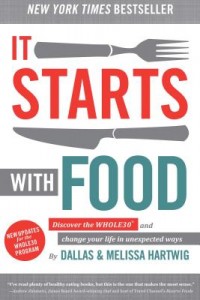 I was inspired to learn more about the Whole30 after following another blogger through her experiment with the program. Her description of life before doing the Whole30 (feeling out of control with food, low energy, consistent headaches) sounded very close to how I was feeling about what I ate and it's impact on my health. She was so positive about the results, and honest about her experience, that I decided I wanted to learn more.
While you can find a lot of basic information about how to do a Whole30 on the website, I wanted to read It Starts With Food because I was curious about the whys of the program and some of the science behind food and nutrition. Knowing that helped me stick to the program even when I wasn't feeling motivated because I got the point of doing this in the first place.
What is a Whole30?
I've been describing the Whole30 as either a "nutritional reset" or a "weird diet," depending on who I'm talking to and how much detail I feel like getting into with them.
Basically, the program asks you to cut out all sugars and added sweeteners, alcohol, seed oils, grains and legumes and dairy for 30 days. This means focusing on a strict diet of proteins, fruits and vegetables, and healthy fats for a month to let your body reset from the impacts that those eliminated foods can have. The foods you keep in your diet are foods that meet four good food standards:
The foods we eat should promote a healthy psychological response.
The foods we eat should promote a healthy hormonal response.
The foods we eat should support a healthy gut.
The foods we eat should support immune function and minimize inflammation.
The foods that are cut out during the Whole30 all fail at least one of those good food standards (often several of them).
How was My Whole30?
I officially started my Whole30 on August 24 and finished on Monday. Overall, I think it went really well.
The Whole30 website has timeline of common feelings and physical reactions people have throughout the month. This was probably the most helpful page on the whole site — I visited it pretty often. My reactions tracked pretty closely with this timeline, although my early hangover symptoms (headaches, fatigue, general malaise) seemed to linger for quite awhile.
I also never really got to the "Tiger Blood" state – super energy, feeling amazing – but I do feel much healthier than I did a month ago. I lost about 9 pounds and seem to have more consistent energy throughout the day (no slumps at 11 a.m. and 3 p.m. like I used to have). I feel less bloated, and I know my clothes fit better even though I didn't take measurements before I started. I also know that my taste for sweetness has adjusted in a pretty significant way (I actually enjoy unsweetened iced tea, something I thought was bitter and undrinkable before).
Although I didn't deliberately cheat and eat foods I wasn't supposed to (until one moment of weakness on Day 29), I also wasn't as diligent about avoiding some foods (seed oils, mostly) when I went out to eat as I could have been. I think that may have impacted my overall results, but it's ok. During my Whole30 month I was traveling for two weekends and hosting my in-laws for another weekend. It's hard to eat out and be perfect, so I'm not beating myself up about that.
Missing and Not Missing
The one thing I craved every single day of my Whole30 was good dark chocolate. I also missed sugar in my black tea in the morning (I can't quite get there) and, once in awhile, warm, flakey biscuits. I had other minor cravings, but those were the most persistent.
I thought that I would miss dairy, cheese and milk in particular, but I didn't crave that much. I also didn't miss grains as much as I thought that I would, although I am kind of excited to go out and get a big plate of pasta sometime soon.
One thing I did realize is that it's possible to have bad eating habits even when eating healthy food. The program discourages snacking, but I still wanted to eat between meals and at night while watching television – even when I wasn't hungry. That's something I am going to have to continue to watch carefully.
Going Forward
The Whole30 includes a reintroduction schedule that slowly adds in new foods and gives you time to see how you react to them. I'm being a little bit loose in following it, but I am trying to test just one or two foods at a time so I can try to figure out which foods were making me feel bad (I'm almost positive it was all the sugar and grains, but we'll see).
And I'm hoping to stick to a mostly Paleo diet going forward. Since I'm apparently an abstainer when it comes to food, I think adopting an approach that keeps certain foods out of my life most of the time will be easier and more effective than reverting to how I approached food before.
And really, I like the way eating this way makes me feel and I like feeling good about the food I put into my body. I still need to work on incorporating more vegetables into my diet and on doing meal prep on weekends to make weekday night meals easier. And I need to keep working to battle my sugar demon… I still have a pretty big sweet tooth. I have a lot to learn, but I feel like this reset helped get me closer to where I want to be.
Whew! I feel like I wrote a lot there without really even getting close to sharing all of my thoughts on this program and my month of super clean eating. If there's anything else I can share, feel free to let me know in the comments!