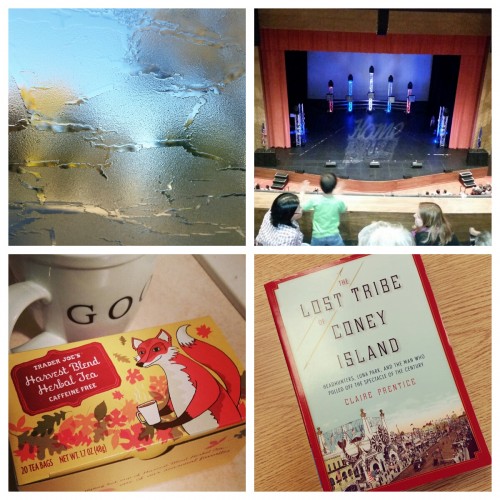 Time and Place | 12:15 p.m. on my couch with my laptop and the Vikings game
Eating and Drinking |  Trader Joe's Dark Chocolate Peanut Butter Cups — I need to find some real lunch soon.
Reading | I didn't have nearly enough reading time this week, but when I did grab a book I picked up The Lost Tribe of Coney Island by Claire Prentice (Oct. 14 from New Harvest). I'm on a book tour for the book tomorrow, so I'll share thoughts then. I'm not sure what I'll pick up next.
Watching | It's been all Gilmore Girls all the time this week.
Listening | I needed a light audio book, so I grabbed Rob Lowe's memoir Stories I Only Tell My Friends. So far it's really delightful — just the right mix of true confessions, Hollywood gossip, and self-reflection that I like in a celebrity memoir.
Cooking | One of my coworkers gave me a huge bag of apples — I see a lot of apple sauce and apple crisp in my future.
Blogging | This week I shared some of my thoughts on why I think it's important to pay attention to diversity in reading. I even made a chart to help illustrate my point.
Promoting | Nonfiction November is coming back again this year! I'm excited to be hosting this fun event with three other bloggers — Leslie (Regular Rumination), Katie (Doing Dewey), and Rebecca (I'm Lost In Books). It should be a lot of fun.
Hating | It is definitely fall in Minnesota… I woke up to frost on my windshield a couple of mornings this week. Ugh.
Loving | My sister and I went to go see Home Free, a country a cappella band, in concert this week. It was delightful.
Preparing | A professor friend of mine invited me to speak to her book publishing class about book blogging this week. It feels a little weird to be talking to non-bloggers about book blogging, but I'm also excited about it.
Wanting | I would really love for the Vikings to get a win today.
Waiting | We have a really great one-screen movie theater in my town that does a decent job of bringing in new releases. But… no Gone Girl yet. I'm excited to see that one.
Anticipating | I am still super excited about the Readathon coming up next weekend. I'm starting to put my book pile together — I'll be sharing it this week!