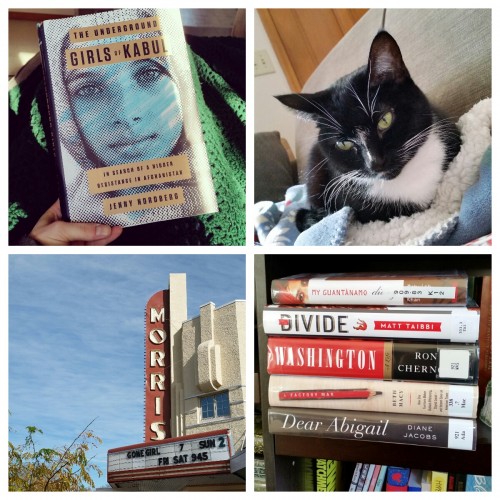 Time and Place | 8:20 at my desk
Eating and Drinking |  Blood Orange Cranberry Black Tea and Trader Joe's Dark Chocolate Speculoos Cookie Butter Cups. Real breakfast is coming soon, I promise.
Reading | After last weekend's Readathon, I had a little bit of trouble settling into a book. But then The Underground Girls of Kabul by Jenny Nordberg came on Thursday and I have been absorbed since. The book is about young Afghan girls who spend part of their childhood pretending to be boys, a relatively common but secretive cultural practice in that country. It's absolutely fascinating.
Watching | Gone Girl finally came to my town! We have a one screen movie theater, which I love, but sometimes it takes a few weeks for new releases to arrive. The boyfriend and I went to see Gone Girl last night and man, did I absolutely love it. It was just as bonkers as I remembered, and really effectively translated to film. Both Ben Affleck and Rosamund Pike were just great. I want to read the book again.
Cooking | I didn't cook much of anything this week, but the cooler weather arriving does make me want to start digging out my soup recipes. I have one for minestrone that I just love.
Blogging | This week I reviewed a great memoir, Without You There Is No Us by Suki Kim, announced our two picks for Nonfiction November readalongs, and shared my plan to read all nonfiction by women next month.
Sharing | Over at Book Riot, Josh Corman writes about the paradox of reading choice. I love his solution to having too many books sitting around unread — use a random number generator to choose what book to finish.
Loving | This week was my grandma's birthday, so I made a point to call her (I'm not great about that). My grandma loves to knit — one of the best gifts I've ever received is the green knitted blanket that shows up behind a lot of my book pictures. I cuddle up with it constantly.
Avoiding | My sister and I have been challenging each other to not spend any extra money in October. This means I haven't bought a new book all month! Instead, I've been compensating by going to the library constantly… I have a bunch of chunksters out right now.
Wanting | I can't wait until the election is over. The barrage of negative ads and general nastiness showing up in the letters to the editor (which I have to read and edit…) is tiring me out.
Anticipating | I got all of my around the house chores done yesterday, so I think I will get to spend most of today reading, writing blog posts, and watching football. I'm excited.