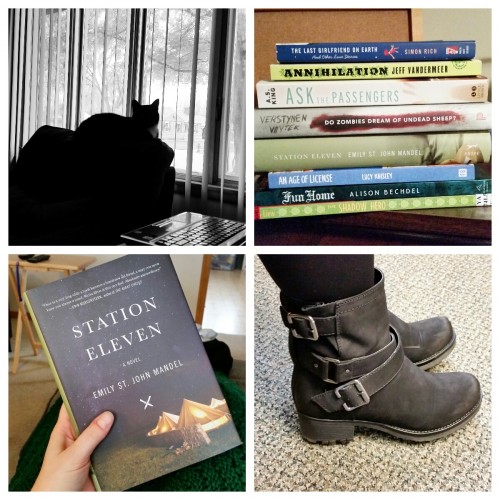 Time and Place | Just after 1 p.m. on my couch with the Vikings game on the background. I've been awake for awhile, but spent the morning chilling out with Gilmore Girls.
Eating and Drinking | I've got lots of Readathon snacks left for today — gummi bears, peanut butter cups, and cheese rice cakes. Yum.
Reading | There was so much reading this week! Before yesterday's Readathon I finished two books, The Lost Tribe of Coney Island by Claire Prentice and Live in Ruins by Marilyn Johnson (Nov. 11 from Harper). And then during the Readathon I finished three more books, Do Zombies Dream of Undead Sheep? by Timothy Verstynen and Bradley Voytek, Station Eleven by Emily St. John Mandel, and Ask the Passengers by A.S. King. It was a really good week for books.
Listening | During some non-reading time yesterday I started Love Life by Rob Lowe, his second memoir. It's more like a series of essays than a straight memoir, but so far it's got all of the qualities I liked in Stories I Only Tell My Friends.
Cooking | I've still got apples left from a batch I got from a coworker, so I think I'm going to make a pie today. We'll see how that goes — I haven't made a pie in awhile.
Blogging | This week the blog was all Readathon. Check out this post to see how my day went yesterday.
Feeling | I'm so grateful that I was able to participate in the Readathon yesterday. With the election coming up, work has really gotten busy and stressful. Not necessarily because there's more to do, but because there's more to do that challenges my natural introversion. By the time I get home I just need to be alone or be quiet, but I've been getting home late and not had that time to recharge. I needed an entire day of just getting lost in books to feel feel energized again.
And with that, I'm going to switch up the currently format a little bit to answer some questions from the end of the event meme. Happy Sunday, everyone!
End of Event Meme
Which hour was most daunting for you?
I usually get tired around Hours 18, but I managed to stay up a bit later than that without feeling too hungover today.
Could you list a few high-interest books that you think could keep a Reader engaged for next year?
Station Eleven ended up being a great Readathon book. I was pulled into the story form the first page.
Do you have any suggestions for how to improve the Readathon next year?
Nope, I think it runs great. I wish people would be less uptight about whether cheerleaders are visiting them or not… if you want people to interact with, get on Twitter or Goodreads and interact, don't just sit alone and expect people to find you. Whew, glad to get that off my chest!
What do you think worked really well in this year's Readathon?
I liked using Storify to collect all of my updates — I'm going to keep that up for my next Readathon.
How many books did you read?
Finished three, made some progress in two others.
What were the names of the books you read?
Do Zombies Dream of Electric Sheep? by Timothy Verstynen and Bradley Voytek, Station Eleven by Emily St. John Mandel, Ask the Passengers by A.S. King, Love Life by Rob Lowe and Fun Home by Alison Bechdel.
Which book did you enjoy most?
I loved Station Eleven so much. It was incredibly book.
Which did you enjoy least?
I don't have a least favorite — they were all good in their own way. I'm glad I went with my gut and chose books I was really excited to read, even if they may have been longer than most people go with for the Readathon.
How likely are you to participate in the Readathon again? What role would you be likely to take next time?
I'll absolutely participate again, probably just as a reader. I like getting to interact with people in my own time and my own ways.