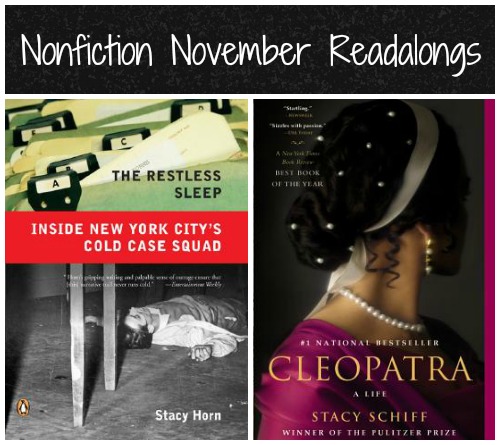 One of my big goals for this year's Nonfiction November — a month-long celebration of great nonfiction I'm co-hosting with Leslie (Regular Rumination), Katie (Doing Dewey) and Rebecca (I'm Lost In Books) — was to find a way for people who are not bloggers to participate. I love the discussion posts, but I think that format can be difficult for people who don't have an online space of their own.
After some discussion, we decided that a readalong might be a way to open up the event to even more readers. We each picked a book we were excited about and polled all of you to see which book you'd be interested in reading with us.
After about a week, it became clear that there was a lot of interest in two of the four titles: The Restless Sleep by Stacy Horn and Cleopatra: A Life by Stacy Schiff. Rather than pick just one, we decided we would host separate readalongs for both books. Leslie and I will be hosting the readalong for The Restless Sleep and Katie and Rebecca will be in charge of Cleopatra.
They'll both be low-key, with discussion/links posts going up on Wednesday, Nov. 19. We picked that date because we thought it would give people enough time to read the book while still wrapping up before the Thanksgiving holiday in the United States. If you are a blogger, feel free to link up a review to that post. If you're a reader, we'll be doing discussion in the comments. We'll also be trying to do some discussion of each book throughout the month on Twitter using the hashtag #nonficnov.
And to be clear, we're not expecting people to do two readalongs (unless you want to, then go ahead, that's amazing!). And if you don't want to readalong, that's ok too — we have the weekly discussion topics that are part of the celebration too. We want it to be low-key and fun and interesting for everyone. If either of these books sound appealing, I hope you'll join us!