Who has two thumbs and fell of the blogging bandwagon this week? That's right, this girl! Work and life got in the way in a pretty significant way, but that's just the way it is. No sense dwelling on the disappointing — let's look at my October reading, which was anything but disappointing (transitions!).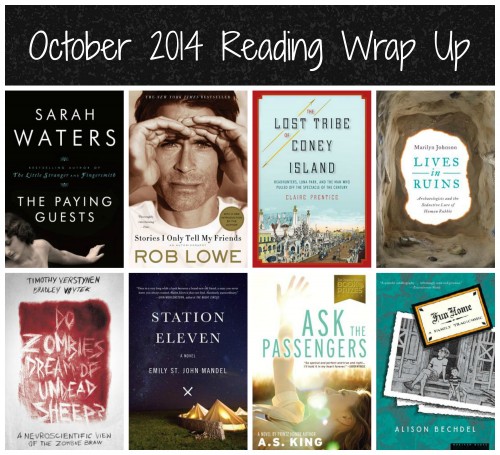 Thanks to Dewey's 24-Hour Readathon, I finished a bunch of great books in October:
Waters, Sarah: The Paying Guests (fiction)
Lowe, Rob: Stories I Only Tell My Friends (memoir/audio book)
Prentice, Claire: The Lost Tribe of Coney Island (nonfiction)
Robinson, Marilyn: Lives in Ruins (nonfiction)
Verstynen, Timothy and Voytek, Bradley: Do Zombies Dream of Undead Sheep? (nonfiction)
Mandel, Emily St. John: Station Eleven (fiction)
King, A.S.: Ask the Passengers (YA fiction)
Bechdel, Alison: Fun Home (memoir, comic)
Flynn, Gillian: Gone Girl (fiction)
It's really hard to pick a favorite. Both The Paying Guests and Gone Girl were major page-turners, but I think the book that burrowed into me and stayed there is Station Eleven. It was an incredible read. Lives in Ruins was also a lot of fun, but in a slightly different way.
For those counting, mostly me, that puts me at 86 books for the year, well on my way to making my goal of 100 books, but probably not surpassing it by much. I also visited my reading stats for the year and discovered something interesting: I've read more fiction this year (44 books) than nonfiction (42 books). For the last few years, I've been about 40 percent fiction to 60 percent nonfiction, so being evenly split is a little strange. But I suppose my reading plans for next month will help change that.
A Look to November
I already shared part of my reading plan for November, which is to focus on nonfiction by women. I'm really excited about this prospect and already got a start on my list — I should have The Underground Girls of Kabul by Jenny Nordberg done in the next few days.
I did pick up a copy if Rooms by Lauren Oliver at the library today, so I suspect I'll make some time to read that. And I've got the audio for Amy Poehler's new book, Yes Please, queued up for a drive this weekend. Then, onward and upward!
What books are you looking forward to reading in November? Which books should I make sure to review this month?