Since 2010, I've been very intentional about keeping track of all the books I read, along with some basic statistics about them. In addition to things like genre and format, I also tracked, primarily out of curiosity, author gender. As it turns out, without much intentional effort, I tend to read about equal or slightly more books by women than men. I think this is great, and I love that this balance happens for me without having to be deliberate about it. As the VIDA counts show us, this is not the case for all readers and reviewers.
One thing that I haven't tracked consistently is the race of the authors I read. I didn't think much about it because I figured that a great book was a great book, regardless of the gender or ethnicity of the author. I probably would have continued on that way without the pushing and passionate arguments of the writers over at Book Riot, who have made it a priority this year to include diversity in reading and coverage at the site.
While I still believe that a great book is a great book, I recently realized that my personal book-seeking habits are not conducive to finding great books by authors of color. I want to change that.
I've had trouble articulating this problem in my head, so I ended up making a chart that tries to explain how my limited reading of diverse authors is a result of intentional and unintentional filters that limit which books I end up reading.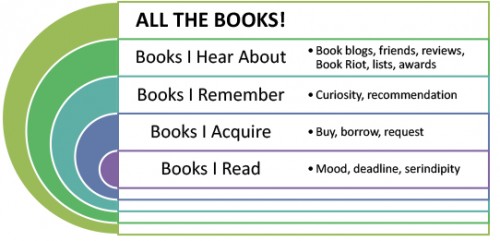 Basically, there are a lot of books in the world. There are fewer books that I actually hear about. There are even fewer books that I remember, fewer books that I acquire and fewer books that I read. And since authors of color are underrepresented at every level of that chart, they are underrepresented in my reading life.
I'm really happy to know that many of the bloggers I trust for recommendations read voraciously and widely. Reading diversely has been a priority for many of them for a long time, and I appreciate and benefit from their suggestions. However, surveys and almost all anecdotal data show that the publishing industry as a whole has a diversity problem. There are also gaps in the number of authors of color (and female authors) that are represented in major awards.
Given those facts, it seems obvious that there is a whole group of authors who are just not coming to my attention. I just won't see many of the great books by authors of color because they aren't getting the same kind of publicity push as books by white authors. Admitting my reading has a diversity problem isn't necessarily a dig on me because it's a result of some much bigger forces at work in the way books are marketed and discussed.
With that in mind, I again agree with my colleagues over at Book Riot: the way I can help this systemic problem is to personally seek out more writing by authors of color. Then when I share the books that I love, they will be more diverse simply because I am paying better attention to those choices.
And I have some numbers to show that paying attention matters. Between 2010 and 2013 I read 423 books, but only about 20 of those (less than five percent) were by authors of color. Since I started to read just a little more intentionally in 2014, I've picked up 12 books by authors of color – about 16 percent of my total reading life. It's not enough, yet, but it's getting better because I've committed to paying attention.
And that's, I think, the best thing each of us as readers can do: simply pay more attention to what we buy and read and share. If we make intentional choices to bring more diversity into our reading, it will start to change publishing for the better.