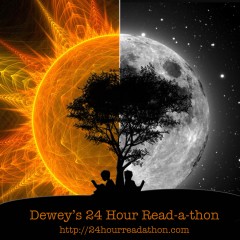 The Readathon is coming!
This Saturday, October 18 is Dewey's 24 Hour Readathon, one of my favorite book nerd days of the year. While I love the spring Readathon, I think the fall Readathon is my favorite — fall always feels like the right time to cuddle in and spend the day with books.
I'll have a post up here on Saturday where I'll do regular updates and collect my updates from other social media, primarily my Twitter feed (@kimthedork) and Instagram (kimthedork). Last spring I used Storify, which I thought went pretty well.
My Book Pile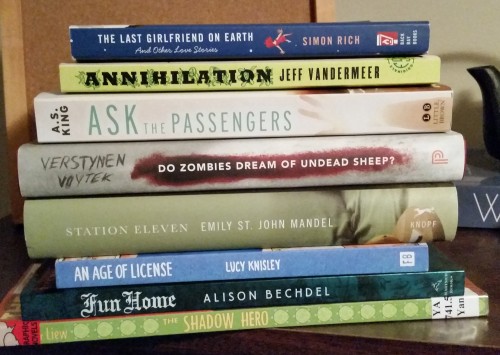 My original plan was to only grab books that were shorter than 250 pages. From past Readathons, I've learned that's an ideal length for books that I can get lost in but still finish in a reasonable number of hours. But… then I decided that there were a couple of books I really wanted to read that are longer than that… so artificial constraints be damned. I have a good day, I'll be able to get through three regular books and three comics, but I'm not putting any pressure on myself either way.
Anyway, enough blabbering! Here's what's on my list:
The Last Girlfriend on Earth by Simon Rich (213 pages) — I've never done short stories during a Readathon, but I've heard so many great things about Rich I threw this on the pile.
Annihilation by Jeff Vandermeer (195 pages) — Pretty much everyone who writes for Book Riot has been raving about this book, the first in a creepy, sci-fi-ish trilogy. I trust those guys… and I love the cover!
Ask the Passengers by A.S. King (293 pages) — Yeah, I know this one is longer than 250 pages. But it's YA with big font, so I think it'll be a satisfying, late afternoon book.
Do Zombies Dream of Undead Sheep? by Timothy Verstynen and Bradley Voytek (272 pages) — Zombies! Nonfiction! What could be better?
Station Eleven by Emily St. John Mandel (352 pages) — I've been wanting to read this one forever, and a readathon seems like the perfect time to pick it up.
An Age of License by Lucy Knisley (189 pages) — When I found out Lucy Knisley had a new illustrated travel memoir out, I knew I had to have it. This is going to be a great Readathon book.
Fun Home by Alison Bechdel (232 pages) — More comics! This is one of those important, well-loved graphic memoirs that I am excited to read.
The Shadow Hero by Gene Luen Yang and Sonny Liew (176 pages) — I grabbed this one at the library — I think it'll be a fun, late-night read.
My Other Plans
In addition to getting my book pile put together, I need to do some chores around the house and get to the grocery store for some snacks. It's easier for me to spend all day reading if I know the kitchen is clean and my laundry is done and there's not a ton of clutter in my reading space. And of course I need some healthy and not-so-healthy snacks to keep me fortified.
Oh man, I am so excited. I can't wait until Saturday!