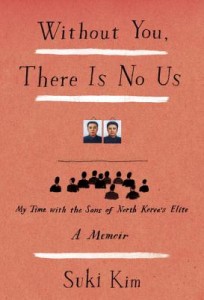 I love to read books that take me to places I will never get to see, or help illuminate cultures that, without an engaging guide, I will never have a chance to understand. One of my favorite books from 2013 that did just that was Barbara Demick's Nothing to Envy, a look at lives of ordinary people in North Korea based on interviews with a growing community of North Koreans who escaped and defected to South Korea. I thought it was a remarkable book.
I revisited life in North Korea last month through a memoir focusing on an entirely different sect of North Korean society – the sons of elite members of the ruling class.
Without You, There Is No Us is a reported memoir, based on journals that author Suki Kim started to keep in 2002. Kim, a native of South Korea who emigrated to the United States with her parents when she was 13, visited North Korea several times between 2008 and 2011 before getting hired to teach English at Pyongyang University of Science and Technology in 2011. At the time, PUST was the only operating university in the country – all other college students were doing forced labor for the year.
To get the job, Kim had to pose as a Christian missionary and hide her notes and experience as a journalist (most of the faculty and staff at PUST are missionaries, although they don't explicitly try to convert the students). During the six months that Kim taught at PUST, she built cautious relationships with her students and tried to give them glimpses of the world outside of North Korea, but may not have been able to get through the brainwashing that the regime conducts on a daily basis.
There are so many things that are wonderful and striking about this book. Because of Kim's limited perspective, the book is deeply personal and focuses almost exclusively on Kim's reactions to life at PUST, her students and what she discovers through working with them.
I was struck, over and over again, at how much they were like any other college-aged men, curious about girls and excited about sports, while simultaneously holding worldviews that make absolutely no sense to anyone with even the most basic knowledge of the outside world. Kim writes at one point that her students constantly lied to her, but that it was never malicious… just what they'd be groomed to do.
While I wouldn't say that Without You, There Is No Us is an enjoyable book to read, once I got into the story I had a hard time putting it down. North Korea is probably the most unknown and unknowable place in the world, and while this memoir offers just a glimpse into that country, I think it is an important and well-done look.
Disclosure: I received a copy of this book for review consideration from the publisher.