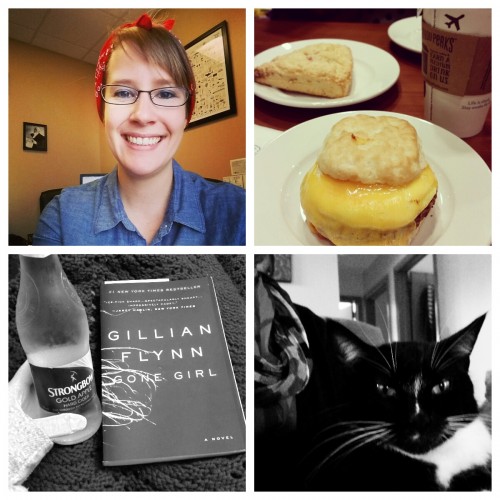 Time and Place | Just time for a quick post today. It's about 8:30 a.m. and I'm sitting at my dad's computer at my parents' house. I'm home this weekend for a training with a youth program I help out with and to celebrate my grandma's birthday.
Eating and Drinking |  Nothing yet, but we have spaghetti and cupcakes coming up for birthday lunch.
Reading | After the boyfriend and I saw Gone Girl last week, I decided to reread the book. It was so great. I'm also close to finishing The Underground Girls of Kabul by Jenny Nordberg.
Listening | I started listening to Amy Poehler's new book Yes Please on my drive to the Twin Cities and I am in love. I'm actually kind of excited to get back in the car this afternoon.
Blogging | It was a quiet week on the blog, although I did share a look back at my reading in October. November is going to be busy, since we'll be celebrating Nonfiction November!
Promoting | f you're on Twitter, be sure to follow #nonficnov, our hashtag for Nonfiction November. It's already really full of great conversations about nonfiction. And I love how many people are sharing their nonfiction reading piles for the month. It's so cool.
Sharing | If you haven't seen it yet, do yourself a favor and watch this video of Daniel Radcliffe rapping on Jimmy Fallon. It's amazing.
Loving | Everyone in our office gets dressed up for Halloween. I needed a "no buy" costume, so I went with Rosie the Riveter (chambray shirt, jeans and a borrowed bandanna). It was a fun costume! And of course I also love Hannah, but you already knew that.
Wanting | My sister and I stopped at Caribou Coffee for breakfast yesterday and I had the most amazing sausage, egg and cheese biscuit. I want another one!
Anticipating | I am seriously so excited about Nonfiction November. It's going to be so much fun. I'll be hosting the first discussion this week, all about your year in nonfiction. If you are not a blogger (or just aren't interested in our discussion topics), be sure to check in on Twitter or join us for one of our readalongs — we'll be chatting about The Restless Sleep by Stacy Horn here on Nov. 19.