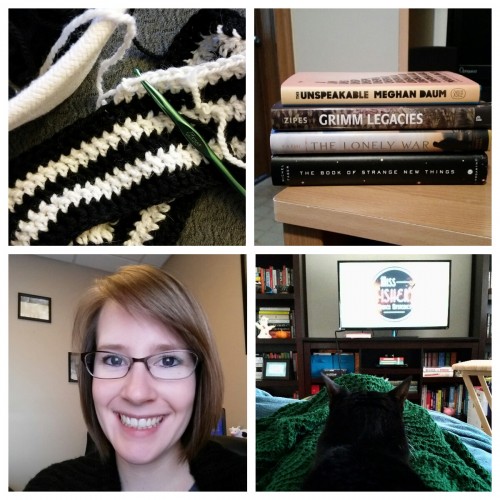 Time and Place | About 8:30 a.m. at my desk, nothing special here.
Eating and Drinking |  Black tea.
Reading | I had another slow reading week. I finished Seabiscuit by Laura Hillenbrand yesterday morning, but that's it. I haven't decided what I want to read next, but I got several good choices in the mail this week: The Unspeakable by Meghan Daum (part of Bex's Nonfiction Book Swap), Grim Legacies by Jack Zipes (from Princeton University Press), The Lonely War by Nazila Fathi (from Basic Books) and The Book of Strange New Things by Michel Faber (the November Riot Read). And there are still a bunch of books on my Nonfiction November reading list that I haven't read yet… so many choices!
Watching | I'm still working my way through Miss Fisher's Murder Mysteries on Netflix. I'm going to be sad when I'm caught up with all of the available episodes. We also went to see Mockingjay: Part I last night — I really enjoyed it! I don't think they needed to make the book into two movies, but I liked the stuff they added to flesh this one out and where they chose to break the book.
Listening | I'm going to try to start listening to Serial, a true crime podcast that everyone seems to be raving about. It seems like something that'll be right up my alley.
Making | I worked on a couple of crochet cowls this week. I don't have any finished pictures — no willing models — but I'll try to get some up in a week or two.
Cooking | I'm in charge of bringing rolls and condiments (pickles and olives) to Thanksgiving dinner this week. I'm thinking about making these Sweet Potato Biscuits as an experiment.
Blogging | This week I shared some thoughts on diversity in nonfiction as part of Nonfiction November. I also put up a post on The Restless Sleep by Stacy Horn, one of our Nonfiction November readalongs. Work was crazy again this week, so I'm woefully behind on comments… that's my project for this afternoon.
Promoting | Rebecca (I'm Lost in Books) was the host for this week of Nonfiction November, a discussion of diversity and nonfiction. Her wrap up has a ton of great posts to click though. Katie (Doing Dewey) will be the host for our final week, so make sure to check out her blog tomorrow.
Hating/Loving | I got new glasses this week, which was good and bad. I had a terrible headache the first day I wore them, but it's better now. I'm not a person who likes to change things, so they've taken some getting used to… but I think I love them.
Life Hacking | When I got home from work on Friday I spent about an hour cleaning our house (doing the dishes, sorting laundry, picking up clutter in the living room, clearing off the top of my dresser) before we went out with some friends. I've done this Friday evening tidy up for about a month now and I absolutely love it. It's awesome waking up on Saturday morning and not having to immediately start in on chores.
Wanting | After 11 days where the temperature didn't get above freezing (horrible), things warmed up this weekend. We're going to hit 40 degrees today! I want it to stay this warm, but I don't think that will happen.
Anticipating | I'm so excited to spend Thanksgiving with my family! The boyfriend and I are leaving Wednesday after work and staying with my parents until Sunday. It's going to be wonderful.
Happy Sunday! What are you reading today?
Updated to Add | I almost forgot! A post I wrote for Book Riot was shared by Reading Rainbow — a personal highlight of the week.
Some books fundamentally impact our lives. "An Ode to Harry Potter & The Magicians" by @kimthedork http://t.co/hvF4YfaSFI via @BookRiot

— Reading Rainbow (@readingrainbow) November 22, 2014