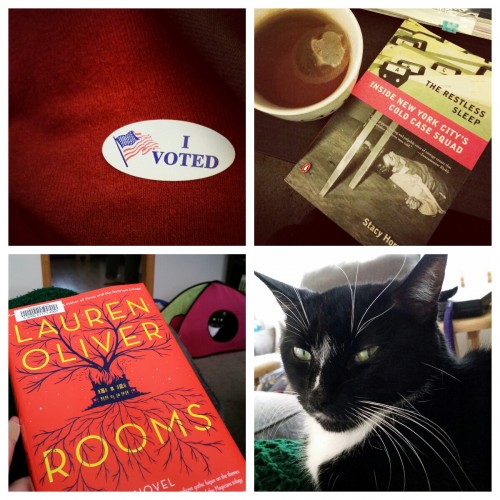 Time and Place | 9 a.m. at my desk
Eating and Drinking |  Black tea and a donut (ok… two donuts)
Reading | This week was really hectic, mostly because of work and election coverage. After I finished The Underground Girls of Kabul by Jenny Nordberg, I had a hard time settling into my next read — especially when I only had small bits of time to actually read. Yesterday I finally made some time for books and made good progress in The Restless Sleep by Stacy Horn and started and finished Rooms by Lauren Oliver (a break from nonfiction since it needs to go back to the library soon).
Watching | The boyfriend and I are trying to decide on our next television show. He's advocating for The Sopranos, I'm still exploring options. Suggestions welcome!
Listening | I am really close to finishing Yes Please by Amy Poehler, but I'm avoiding finishing it because I'll be sad when it's over. Maybe I'll get to that today.
Cooking | I have big plans in the kitchen today, starting with a slow cooker pot roast and finishing with a batch of my favorite minestrone soup.
Blogging | This week was the first week of Nonfiction November, so it was busy on the blog with the original post and my wrap up. I'm still behind on commenting on the 62 posts that were linked up this week (so great!), but I'm hoping to catch up while watching football today. I also posted a review of Do Zombies Dream of Undead Sheep? by Timothy Verstynen and Bradley Voytek.
Promoting | Leslie (Regular Rumination) will be the host for the second week of Nonfiction November, so make sure to check out the posts linked there. This week's topic — Be The Expert/Ask the Expert/Become the Expert — was probably my favorite topic last year.
Hating | I haven't gotten into a mental space where I can accept that we are going to get from six to 12 (maybe more) inches of snow tomorrow. Winter is here.
Loving | The boyfriend and I celebrated our sixth anniversary of dating this week — our first date was watching the 2008 election returns and going out for a drink to celebrate.
Avoiding | We've got a long-ish list of winter storm prep chores to get done today. I can only avoid thinking about them until the boyfriend wakes up…
Anticipating | Despite not being ready for winter, I am getting excited about the holiday season. I think it's going to be a good one.