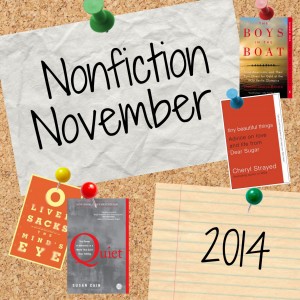 Hooray, it's the second week of Nonfiction November! Your official host this week is Leslie (Regular Rumination), so make sure to link up your posts on her blog.
Our topic this week is a repeat from last year and was probably my personal favorite week:
Be The Expert/Ask the Expert/Become the Expert: Three ways to join in this week! You can either share three or more books on a single topic that you have read and can recommend (be the expert), you can put the call out for good nonfiction on a specific topic that you have been dying to read (ask the expert), or you can create your own list of books on a topic that you'd like to read (become the expert).
Anyone who has read this blog for a length of time knows that I really love to watch football. I wasn't always a fan, but as I watched more and started to better understand how the game works, it grew on me to the point where I regularly watch games and participate in two fantasy football leagues. I think, when played well, the game is elegant and complicated and really interesting to watch.
This year, though, it's been really hard to be a football fan – especially a female football fan. The fact that the National Football League can go nuts in support of breast cancer awareness, but refuses to deal rationally with the epidemic of domestic violence among players is just the worst. I've been so down much of this season because it's just been sad to think about the incompetence of the organization that oversees the game. To try and understand the League, as well as broader football culture in the United States, I've put together this reading list: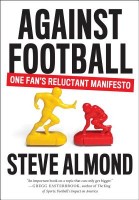 Against Football: One Fan's Reluctant Manifesto by Steve Almond
In this book, out just this fall from Melville House, football fan Steve Almond explains why he has given upon the sport after 40 years as a fan. In the book he looks at many of the negative aspects of football – tolerance for violence, greed and homophobia; the effect of money on teams and players; and the increasing scientific evidence that playing football can lead to long-term physical and mental problems for players. Fellow book blogger Florinda (The 3Rs Blog) read the book and recommended it to me, so it's high on my list.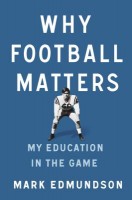 Why Football Matters: My Education in the Game by Mark Edmundson
Also out this fall, I think Why Football Matters will be a good counterpoint to Against Football. In this book, essayist Mark Edmonson looks specifically at the lessons of youth football, using his own experience as a high school athlete as well as the experiences of his football-playing son. I'm interested in this book specifically because I think the questions about football extend beyond the professional level – I want to read more about the potential value of football to young people, especially those who never go on to play in college or at a professional level.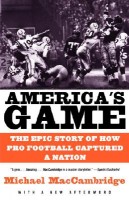 America's Game: The Epic Story of How Pro Football Captured a Nation by Michael MacCambridge
Despite the popularity of football today, it hasn't always been the dominant sport in the United States. As I was digging around for books on the history of the game, Michael MacCambridge's comprehensive history of football from post-World War II to the present, seemed widely recommended. The book looks at the game's reception after World War II, how labor disputes and controversies in the 1980sna d1990s threatened the game, and how the sport came to dominate contemporary culture. I think this one will provide good context for the arguments made in other books on this list.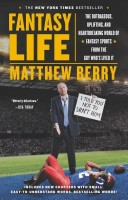 Fantasy Life: The Outrageous, Uplifting, and Heartbreaking World of Fantasy Sports from the Guy Who's Lived It by Matthew Barry
The idea of fantasy football – picking players from various teams for your personal team, to play against other fictitious teams – is pretty ridiculous. But I'm also a little addicted to it, even when my teams are terrible. According to the jacket copy for Fantasy Life, more than 35 million people in the United States and Canada participate in fantasy sports leagues. That's a little nuts. In this book, Matthew Berry, senior fantasy sports analyst for ESPN (I can't believe that's a real job), looks at the range of the fantasy sports world and tries to explain why it's a national pastime.
So there you have it – my reading list for becoming an expert on American football culture. I've got a lot of reading to do.
Programming Notes
Bex (An Armchair By the Sea) is organizing a nonfiction book swap in conjunction with Nonfiction November. Check out that post for more information.
Our readalong posts for The Restless Sleep and Cleopatra: A Life will go up on Wednesday, Nov. 19. Follow this link to find out more about the readalongs.
Our Nonfiction November Twitter hashtag is #nonficnov. The conversation there is awesome.
A big shout out to my co-hosts: Leslie (Regular Rumination), Katie (Doing Dewey) and Rebecca (I'm Lost In Books). Again, Leslie is your host this week so make sure to link up your discussion posts and reviews there.