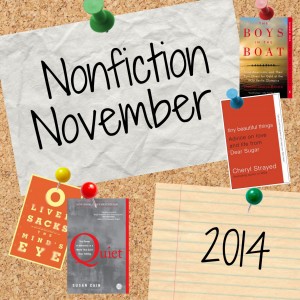 Oh, November, You've gone so quickly. I'm sad about that, since talking about nonfiction all month has been so fun. The host for our final week of Nonfiction November is Katie (Doing Dewey). The purpose of this week is to look back on the month and share some of the books that caught your attention:
New to My TBR: It's been a month full of amazing nonfiction books! Which ones have made it onto your TBR? Be sure to link back to the original blogger who posted about that book!
Even though I've been awfully slow to leave comments on all of the posts, I've really tried to read all of them. As I read and jotted down books that sounded interesting, I notice two things — there were a ton of books I have on my shelves that I just haven't read it, and a ton of books I hadn't even heard of. Here's are five of each.
Five Books Already on My Shelves
Five Books Added to My Shelves
There are many, many more books that caught my attention that I could have included, but that's what I've got. I'll definitely be revisiting the wrap-up posts for each week when I need more recommendations!
One last reminder that our Nonfiction November Twitter hashtag is #nonficnov. The conversation there is awesome.
Finally, a huge thank you to my co-hosts: Leslie (Regular Rumination), Katie (Doing Dewey) and Rebecca (I'm Lost In Books). This month would not have happened without their hard work and enthusiasm. I don't think Leslie and I could have manged it ourselves this year, so I am so grateful that Katie and Becca joined us. Check back for a wrap-up for this week from Katie.
And thanks to all of you who have participated this month. I can't believe how much it grew from last year, and how many different people participated. It's been so much fun.