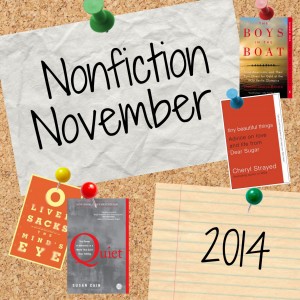 Guys. Guys! We had 54 posts linked up for our first week of Nonfiction November. That is just so cool. I love that there are so many people jazzed about talking about nonfiction. Thank you!
One of the common themes I saw among the posts is that people didn't feel like they were reading enough nonfiction. While I obviously I think it's great that people want to incorporate more nonfiction into their reading lives, I also think it's important not to feel bad about what we do or don't read. Pay attention to what you're consuming, but don't let it make you feel inadequate, ok? </rant>
Your Year in Nonfiction
Trying to recap all of those posts got out of control fast, so I decided to pull one book from each post to share, either a favorite read or a book that was frequently recommended (while trying to avoid repeats). Yes, reading this will make your TBR explode. For more information, click the link for each name that goes back to the full post. I apologize in advance if I missed anyone (and for not commenting on every post – I'm coming back this weekend)!
The Empathy Exams by Leslie Jamison – Amy (Amy Reads)
Unbroken by Laura Hillenbrand – Amanda (Gun in Act One)
I Am Malala by Malala Yousafzai – Amelia (Little Thoughts About Books)
Smoke Gets In Your Eyes and Other Lessons from the Crematory by Caitlin Doughty – Andi (Estella's Revenge)
Sweet Tooth: A Memoir by Tim Anderson – Becca (I'm Lost in Books)
The Boy on the Wooden Box by Leon Leyson — Becky (Becky's Book Reviews)
Seabiscuit by Laura Hillenbrand – Beth (Too Fond)
Travels with Charley by John Steinbeck – Bex (An Armchair By the Sea)
The Immortal Life of Henrietta Lacks by Rebecca Skloot – Caro (A Girl That Likes Books)
Open by Andre Agassi – Carrie (Other Womens Stories)
Thirteen Days in September by Lawrence Wright – Christina (The Ardent Reader)
An Astronaut's Guide to Life on Earth by Chris Hadfield– CJ (ebookclassics)
And the Band Played On by Randy Shilts – Debi (Talking to Myself)
Thank You For Your Service by David Finkel – Elizabeth (the dirigible plum)
Books, Baguettes and Bedbugs by Jeremy Mercer – Ellie (Book Addicted Blonde)
The Greater Journey: Americans in Paris by David McCullough – Heather (Based on a True Story)
Quiet by Susan Cain – Heather (Capricious Reader)
Talking Hands: What Sign Language Reveals About the Human Mind by Margalit Fox – hillarypat (ahorseandacarrot)
Delusions of Gender by Cordelia Fine – Iris (Iris on Books)
The Game Plan by Bill Polian – Jay (Bibliophilopolis)
An Age of License by Lucy Knisley – Jancee (Jancee Reads)
Orange is the New Black by Piper Kerman – JaneGS (Reading, Writing, Working, Playing)
Five Days of Memorial by Sheri Fink – Jennifer (The Leaning Stack of Books) and Florinda (The 3Rs Blog)
Mao's Great Famine by Frank Dikötter – Jennifer (The Relentless Reader)
The Diving Bell and the Butterfly by Jean-Dominique Bauby – Julz (Julz Reads)
The Boys in the Boat by Daniel James Brown – JoAnn (Lakeside Musing)
Tesla: Inventor of the Electrical Age by W. Bernard Carlson – Katherine (Writerly Reader)
Frozen in Time by Mitchell Zuckoff – Kelly (The Well-Read Redhead)
Packing for Mars by Mary Roach – Leah (Books Speak Volumes)
Without You, There Is No Us by Suki Kim – Leila (Readers' Oasis)
Things I've Learned from Dying by David R. Dow – Lu (Regular Rumination)
Marbles: Mania, Depression, Michelangelo, and Me by Ellen Forney – Melissa (Feminist Texan Reads)
Handling the Truth by Beth Kephart — Melissa (Melissa Firman)
Tolstoy and the Purple Chair by Nina Sankovitch — Melissa (Avid Reader's Musings)
Violins of Hope by James A. Grymes – Monika (A Lovely Bookshelf on the Wall)
The Boys in the Boat by Daniel James Brown – Musings from a Bookmammal
Relish by Lucy Knisley – Napur (One Hot Stove) and Trish (Love, Laughter and a Touch of Insanity)
Liar, Temptress, Soldier, Spy by Karen Abbott – Sarah (Sarah's Book Shelves)
Undress Me in the Temple of Heavenby Susan Jane Gilman – Savvy Working Girl
The Last Lion 2: Winston Spencer Churchill Alone, 1932-40 by William R. Manchester — Semicolon
Tiny Beautiful Things by Cheryl Strayed – Shannon (River City Reading) and Holly (Gun in Act One)
Heads in Beds: A Reckless Memoir of Hotels, Hustles, and So-Called Hospitality by Jacob Tomsky – Sharlene (Olduvai Reads)
The Tastemakers: Why We're Crazy for Cupcakes but Fed Up with Fondue by David Sax – Sophie (Paper Breathers)
The Warmth of Other Suns by Isabel Wilkerson – Stefani (Keep it Wordy)
The Glass Cage by Nicholas Carr – Travis (Head Subhead)
Born to Run by Christopher McDougall – TJ (My Book Strings)
Pilgrim's Wilderness by Tom Kizzia – Trisha (eclectic/eccentric)
Is That a Fish in Your Ear? by David Bellos – Wendy (Wensend)
Reviews
We also had several people link up reviews they posted this week:
Programming Notes
NEW STUFF: Bex (An Armchair By the Sea) contacted us and asked if we were cool with her organizing a nonfiction book swap in conjunction with Nonfiction November. It sounded really fun, so check out that post for more information.
Our readalong posts for The Restless Sleep and Cleopatra: A Life will go up on Wednesday, Nov. 19. Follow this link to find out more about the readalongs.
If you're talking about Nonfiction November on Twitter, please use the hashtag #nonficnov. The Twitter conversations this week have been really awesome.
A big shout out to my co-hosts: Leslie (Regular Rumination), Katie (Doing Dewey) and Rebecca (I'm Lost In Books). Leslie will be your host next week when our topic is "Be The Expert/Ask the Expert/Become the Expert."
Finally, thank you, thank you, thank you for all your enthusiasm this week. It's been really been really amazing, and I just expect it to keep getting better.