I hate starting out blog posts with apologies, but this tweet from Andi (Estella's Revenge) pretty much sums up life over the last couple of weeks:
Why did the "I'm too busy to breathe" slumps have to hit during #nonficnov?

— Andi Miller (@estellasrevenge) November 17, 2014
I had high hopes for a thoughtful, nuanced post to spark discussion about The Restless Sleep by Stacy Horn, one of the two books we're discussing during Nonfiction November. Instead, work is crazy and my brain is fried, so I'm just going to talk about why I was excited to read this book then open it up for chatter in the comments.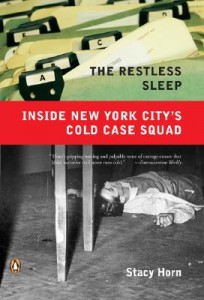 If you recall, my fellow Nonfiction November hosts and I offered up four options for the readlong — one chosen by each of us. The Restless Sleep is the book I suggested, so I was definitely excited other people were up for reading it.
The Restless Sleep got on my radar thanks to one of my favorite nonfiction bloggers (who, sadly for me, hasn't blogged much lately), Sarah from Citizen Reader. Last summer she wrote a post about Stacy Horn, one of her favorite nonfiction writers. Sarah noted, "I am very fond of her books because they cover a wide variety of topics, she takes fact-checking seriously, and her writing is always very, very sincere."
At Sarah's suggestion, I found a copy of Horn's most recent book, Imperfect Harmony, a mix of memoir, history and science that explores why humans love to sing together. I was struck by how wide-ranging the book was, the unique structure, and how deeply personal the subject was for her and the way she approached it. Since I have a soft spot for true time, The Restless Sleep pushed it's way onto my reading list.
The Restless Sleep, first published in 2005, is an inside look at the Cold Case Squad of the New York City Police Department. The book looks at the history of the squad and the challenges of investigating cold cases while following detectives through three different cold cases. In addition to write about these crimes, Horn explores the intricacies of police bureaucracy, the process of investigations and the personalities of detectives in this squad.
I really love these sorts of outsider/insider stories, where a writer who is new to a topic tries to make it meaningful to other outsiders. And for the most part, I really enjoyed reading this book.
But I don't want to let my opinion dictate the discussion to much so I'll just offer up some questions to spark conversation: What did you think of the book? What did you think of Horn's approach to the subject? How well did she manage to bring all of these threads together? Did this book make you curious about other police groups or about cold cases in general?
Programming Notes
Leslie (Regular Rumination) is also writing about The Restless Sleep. You can visit Katie (Doing Dewey) and Rebecca (I'm Lost In Books) for posts on Cleopatra: A Life. Just leave links to your post, if you have one, in the comments.
Our Nonfiction November Twitter hashtag is #nonficnov. Share posts or chat about the books there too!