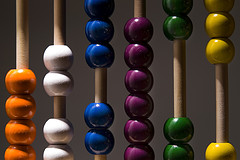 I started book blogging in 2008. At the end of the year, I fell in love with posts where bloggers would break down their year in reading. Beginning in 2010, I started to keep detailed statistics about each book I read so I could look back on my year in reading that way too. I love being able to look back at those numbers and use them to assess the current year too.
I know that there are still a couple of days left in 2014, but I'm in the middle of a few chunky books and don't really see myself finishing them before the new year begins. And that's ok, I'm feeling ready to wrap up 2014 and get started in 2015.
The Basics
102 books read (104 in 2013 | 110 in 2012 | 109 in 2011 | 108 in 2010)
28,888 pages read (33,839 in 2013 | 34,883 in 2012 | 34,127 in 2011 | 31,210 in 2010)
126 hours listened (104.5 in 2013 | 93.5 in 2012 | 58 in 2011)
This all averages out to about 555 pages per week (650 in 2013) or 79 pages per day (93 in 2013).
Longest Book: Elizabeth the Queen by Sally Bedell Smith (720 pages). Honorable mentions include Console Wars by Blake Harris (576 pages), The Paying Guests by Sarah Waters (576 pages), and The Amber Spyglass by Philip Pullman (548 pages).
Shortest Books: Ms. Marvel by G. Willow Wilson (120 pages) and I Don't Know by Leah Hager Cohen (128 pages).
Most Common Book Length: 320 pages (10 books)
Oldest Book: Northern Lights by Philip Pullman (1995). This is a little sad. I should read more classics in 2015.
Books Published in 2014: 53 of 102
Author Gender: 54 women, 36 men, 12 other (multiple authors)
Number of Comics: 13 of 102, although this doesn't count single issues because I didn't track them. Nine of these were written by Brian K. Vaughn (Saga and Y:The Last Man Standing).
A new stat for this year was the author's race. My average before this year was about 10 percent books by authors of color. This year, about 14 percent of the books I read were by authors of color. I'm hoping to up that to 20 to 25 percent in 2015.
Books by Genre
And now, the charts! This first graph shows fiction versus nonfiction for the year. Normally, I read more nonfiction than fiction. This year, it was pretty close to even. I attribute this to finishing three trilogies I was excited about, and reading more comics.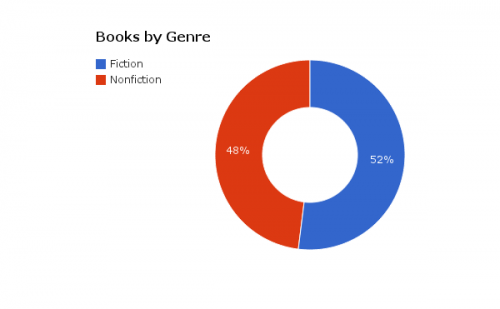 Books by Acquisition Type
This chart looks at where my books come from. Generally, I try to balance review copies with other reading material. In the past, I've still skewed pretty heavily towards review copies — not this year! In 2014, more than half of the books I read were books I owned. I'm really excited about this.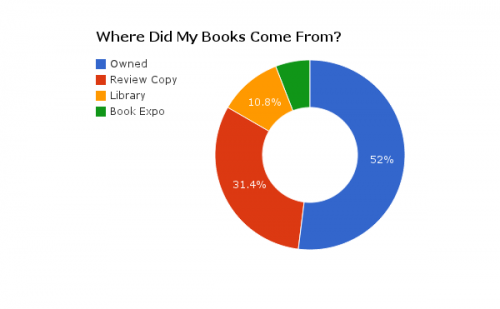 Books by Format
This last chart looks at what format I read my books in. As you can see, I read a lot of hardcovers (about 33 percent), followed by paperbacks and ARCs. My percentage for audiobooks went up a bit this year (9 percent in 2013 to 12 percent in 2014), but my percentage of ebooks went down.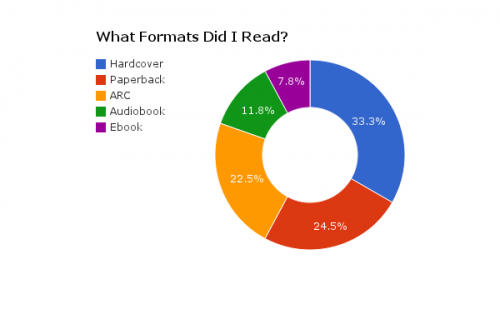 Tackling by TBR in 2014
I only set one goal for 2014: getting my TBR under control. While I wasn't entirely successful in completing the tasks I set for myself – catalog my library in LibraryThing, track every book I acquire, buy fewer books, and choose ebooks – I did manage to read more of my own books that review copies and library copies combined. That is so exciting, and a trend I hope I can continue in 2015.
What's it All Mean?
In taking all of that in, I think it's safe to say that my reading was a little bit off this year. While I read about as many total books as I've read in the past, the breakdown of the type of book must be different – I read significantly fewer pages, but increased my time listening to audiobooks by a pretty big margin too. I'd also venture to guess that I read many more comics this year, adding to my total books but not to total pages.
The breakdown of fiction and nonfiction seemed weird, at first, but as I reflect back I can see how I was a bit disconnected from the "big" nonfiction books of the year. I also don't review fiction as thoroughly as nonfiction, so when I need "no pressure" reading I turn to fiction — I recall doing a lot of that this year too.
I'm not sure what 2015 will bring. I hope I'll continue reading from my own bookshelves, and I hope I'll get to read more nonfiction. I hope I can squeeze in more audiobooks and I hope I can utilize my ereader more. Whatever the new year is going to bring, I'm ready!