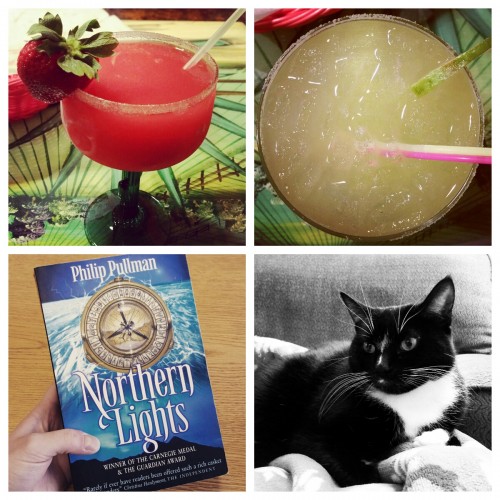 Briefly | It has been an eventful week! A new restaurant opened in town (this is a huge deal for a town our size), work was very stressful, and we had a plumbing issue in our basement. Our landlord is coming to look at it again today… hopefully it's an easy fix.
Time and Place | 8:30 a.m. on my comfy chair in the living room. My office is unusually chilly this morning.
Eating and Drinking |  Black tea and homemade chocolate chip cookies, the breakfast of champions.
Reading | Since fall tv is on hiatus, I've spent a ton of time reading — and my books finished this week reflect that! Continuing on last week's Laura Vanderkam/time and productivity binge, I finished What the Most Successful People Do Before Breakfast, a collect of three shorter pieces she wrote looking at best tips for maximizing your morning, your weekend, and your time at work. All these ideas are dovetailing nicely into what, I think, will be my One Little Word for 2015 (my 2014 word was "curate") — more on that after the new year.
On the fiction side, I finished Everything I Never Told You by Celeste Ng, a really beautiful book about family, honesty and identity, framed by the challenges of being a mixed race family in the late 1970s. I had so many moments where I just felt heartbroken for these characters and the way their personal anxieties were hurting the people they love most — exactly like what real families do. And finally, I started in on my Christmas comfort reads with a reread of Northern Lights by Philip Pullman (the American title is The Golden Compass).
Watching | Last night, the boyfriend and I watched The One I Love, a weird little indie movie with Mark Duplass and Elisabeth Moss. It was really a fun movie to watch,if you ignore the fact that the way they try to explain all the weirdness makes absolutely no sense.
Cooking | I was busy in the kitchen yesterday — lasagna, chocolate chip cookies, and sugar cookie dough for cutout cookies today. It was fun!
Blogging | Last week I shared my favorite fiction of 2014. This week I'll have my favorite nonfiction of 2015 post up, then I'm taking a little blogging break for the holidays.
Promoting | I really like the way Jenny (Reading the End) describes her experience of trying to read more diversely, specifically how it affects her book-finding habits. This is what I hoped to say in my post on this subject, just much more clearly than I managed.
Pondering | I'm still trying to decide what I'm going to throw in my bag for my trip home for Christmas. Book friend Rebecca Schinsky offered this formula for travel book packing:
What's your travel book packing strategy? Mine: absorbing novel + something on audio + something to dip in & out of (essays or stories)

— Rebecca Schinsky (@RebeccaSchinsky) December 18, 2014
Although we're driving and space isn't really an issue, I'm still trying to limit the number of books I stuff in my suitcase. So far I have The Subtle Knife and The Amber Spyglass (absorbing novels, second and third in a trilogy), The Republic of Imagination by Azar Nafisi (audio), and The Unspeakable by Meghan Daum (essays). I'll probably grab at least one more book, probably nonfiction, but I don't quite know what yet.
Hating and Loving | I hate that there is so little sunlight today — the sunrise was at 8:01 a.m. and the sunset will be at 4:42 p.m. where I live — but I'm glad that we're now up the upswing to longer days.
Loving | A new Mexican restaurant opened in town (this is a huge deal), so I went out for dinner and drinks with my boss on Monday night. They had the best margaritas, in many flavors.
Anticipating | The boyfriend and I, likely with Hannah in tow, are headed to my parents' house for Christmas on Wednesday afternoon. His parents are joining us this year, so it'll be a big, different celebration. I'm excited.
Happy Sunday! What are you reading today? What are your reading plans over the holiday?