Aside from pulling together my end of the year reading statistics, I think my favorite post of the year is this one, my favorite nonfiction reads of the year. It's so satisfying to scroll back through all of the books I read this year and think about which ones I loved most, and which ones I wish more people would read.
Like my list of favorite fiction of 2014, this list doesn't include just books published in 2014, it's pulled from all the books I read this year. I did a little better job incorporating backlist into my nonfiction this year, and this list reflects some of that. I also don't think these books are necessarily the best books of the year — I'm not widely read enough to even claim that — they're just the books that I loved most.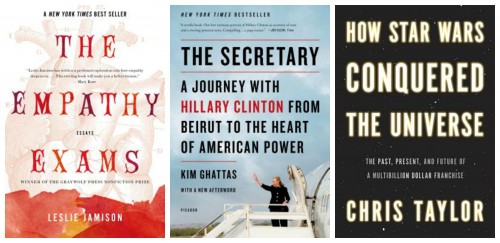 The Empathy Exams by Leslie Jamison – This was my pick for Book Riot's Best Books of 2014 List (and not just because someone beat me to my other favorite of the year, Station Eleven by Emily St. John Mandel, it really was my favorite). I loved the way Jamison took a topic and came at it from all angles, never losing sight of these big questions about how we connect with one another. (Review).
The Secretary by Kim Ghattas – This book about Hillary Clinton's tenure as Secretary of State, written by a BBC foreign correspondent, was perfectly in my wheelhouse. Ghattas' experience growing up in Lebanon gives her a really interesting perspective on U.S. foreign policy that I appreciated. (Review)
How Star Wars Conquered the Universe by Chris Taylor – This book, all about the history of the Star Wars franchise and it's impact on contemporary culture, was one of the more surprising and delightful books I read this year. (Review)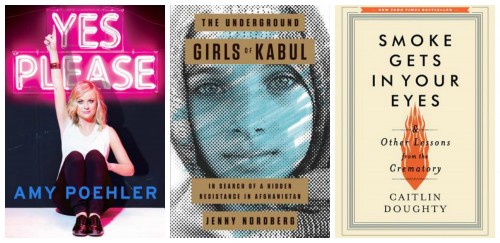 Yes Please by Amy Poehler – True story, I bought two copies of this book, the audio because I wanted to hear Amy Poehler read it and the hardcover because I wanted to be able to see all of the interesting things she was reading to me. This book reads like sitting down with a smarter, older friend and getting excellent advice about apologizing, motherhood, and taking risks. I laughed and I cried and I'm so glad I read it.
The Underground Girls of Kabul by Jenny Nordberg – Of all the books I didn't write reviews of this year, this is the book I most regret not sharing in detail. Nordberg, a Swedish journalist, shares the story of Afghanistan's "bacha posh" – girls who spend most of their childhood dressed at boys. It's a fascinating phenomenon in a culture that has impossible and damaging gender standards.
Smoke Gets in Your Eyes by Caitlin Doughty – I didn't know that I wanted to learn all about what it takes to be a mortician until I read this memoir. In addition to being just a bit gross and very funny, this book has a lot of smart things to say about how our cultural response to death needs to evolve. (Review)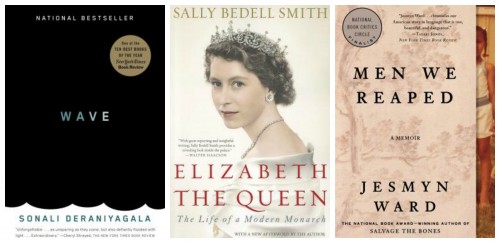 Wave by Sonali Deraniyagala – This memoir, about a woman who lost her entire family in a 2004 tsunami in Sri Lanka, is very hard to read. But it's also a beautiful memorial to the family she lost and complicated meditation on grief. (Review)
Elizabeth the Queen by Sally Bedell Smith – If you are looking for a hard-hitting look at the British royal family, this is not the book. But if you're curious about the life and personality of a monarch, this book is delightful. (Review)
The Men We Reaped by Jesmyn Ward – This is another book I just finished last week and boy, was it a good one. Ward's memoir about losing five young men in five years is a moving look at what it means to be young and black in America. It's so relevant now, really a must read for almost everyone  even though, at times, it feels like Ward doesn't quite have the distance from these moments that she needs to be her most effective as a memoirist.
Honorable Mentions: Unbroken and Seabiscuit by Lauren Hillenbrand, Empty Mansions by Bill Dedman and Paul Clark Newell, Jr., Without You There is No Us by Suki Kim, Console Wars by Blake J. Harris, and On Immunity by Eula Biss
And that's my list of favorite nonfiction for 2014! It's been a really stellar year of reading, and I'm so grateful for that. I'm taking a little blogging break through Christmas, probably right up until the New Year when I'll be back with a look back at my reading stats for 2014 and a look ahead to my plans for 2015. Happy holidays, everyone!