In addition to writing about books here at the blog, I'm also lucky enough to do some freelance reviewing. Most of it is for The Cap Times, a weekly news site in Madison, Wisconsin. I interned at the paper when I was in grad school and continued to do some writing about books when I lived and worked in Madison after I graduated. I don't write quite as much now that I live in a different state, but I appreciate the chance to flex my reviewing muscles there once in awhile.
One of the books I wrote about this year was What Stays in Vegas by Adam Tanner, a look at the ways personal data are used (largely unregulated) in private corporations. I've copied a bit of the review below, with a link back to the Cap Times if you're interested in reading further.
'Vegas' explores mining of our personal data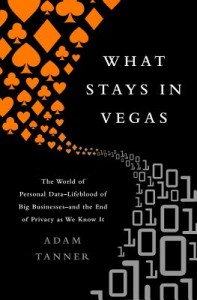 While much of our contemporary anxiety over the way personal data are collected and distributed is directed at the government, the more pervasive — and perhaps most insidious — users of personal data are corporations and other private businesses.
In What Stays in Vegas, journalist and Harvard University fellow Adam Tanner explores how personal data have become "the lifeblood of private industry, the elixir that fuels marketing efforts to compete and expand their businesses."
"Private companies regularly assemble detailed individual profiles on millions upon millions of people with only minimal restrictions," Tanner argues. "The land of the free, fueled by the spirit of free enterprise has become the greatest data collector of all."
To explore the way private companies use personal data culled from public records and provided by individuals, Tanner goes inside Caesars Entertainment. The company was one of the first Las Vegas casinos to make user data, collected through the company's Total Rewards loyalty program, a serious part of their marketing and customer retention programs.
Along the way, Tanner also looks at other companies, from direct marketers to data brokers, who are making money off the data that most of us provide without a thought when we sign up for yet another apparently free program or service.
Read more at http://host.madison.com/entertainment/arts_and_theatre/books/vegas-explores-mining-of-our-personal-data/article_855c565e-644c-5080-902e-d89f4f492455.html#ixzz3LGsO1900