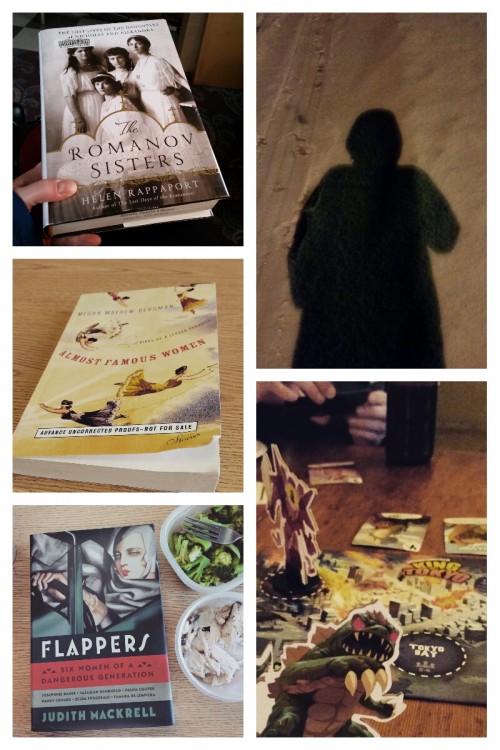 Time and Place | About 8:45 a.m. on my couch
Reading | I've been on an awesome little streak of reading books about famous and almost famous women. It started with Helen Rappaport's The Romanov Sisters, a look at the Romanov family focusing primarily on Olga, Tatiana, Maria and Anastasia. That was followed by Megan Mayhew Bergman's new short story collection, Almost Famous Women. I'm working on a post with thoughts on this one, specifically how fiction offers a chance to learn something about these women that nonfiction would miss. And now I'm in the middle of Flappers: Six Women of a Dangerous Generation by Judith Mackrel, which has some interesting connections with the other two books. It's been a fun little reading binge.
Watching | On a whim, I started watching The Tudors on Netflix. It's pretty absurd — and as far as I can tell, playing awfully fast and loose with historical facts — but it's mindless enough for watching while I do other things.
Listening | One of my favorite pop culture critics, Linda Holmes, is joining Brian Lehrer of New York Public Radio for a weekly podcast on the final season of Parks and Recreation. Each week they're bringing in a guest to talk about some of the political stuff in the show, which is such a fun idea. It's great if you're a fan of the show.
Recommending | I really liked this piece from Slate — Why It Matters That Wild Wasn't Nominated for Best Picture. The comments about domestic fiction and the worth of men's and women's stories are really spot on, especially in the broader context of the boring Oscar nominations.
Loving | One of my goals for this year is to either exercise or hit my step goal (thanks, FitBit Charge) every day. This has forced me to take some late-evening winter walks, made possible by the amazing winter coat my mom got me for Christmas.
Blogging | Since I was catching up from my weekend away, it was a quiet week on the blog — just some mini-reviews of Sweetland by Michael Crummey (loved) and Descent by Tim Johnston (disliked).
Playing | We had friends over last night and played King of Tokyo — this might be my favorite board game. It's relatively easy, but also totally goofy. (Here's a video of a game on TableTop that explains it pretty well).
Anticipating | I'm excited about the AFC and NFC Championship football games today. My team isn't playing, but I know lots of Packer fans, so I'll be quietly rooting for them to upset the Seahawks.
Happy Sunday, everyone! What are you reading today?