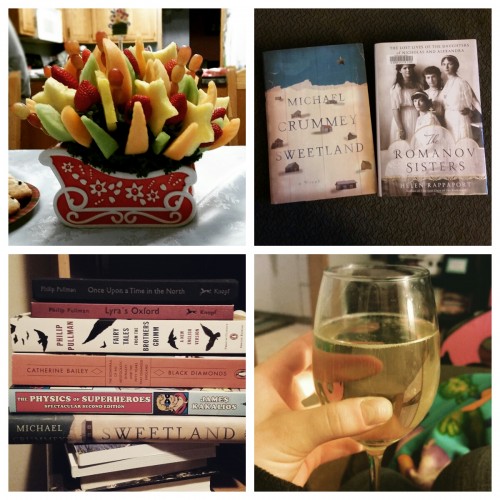 Briefly | Cheers and Happy New year! It feels like forever since I sat down and wrote a Sunday morning post — lots to catch up on.
Time and Place | About 8:30 a.m. on my couch with my new Asus Chromebook, one of my Christmas presents. My old laptop was on it's last legs and a Chromebook seemed like a reasonable replacement. It's slim, light and does nearly everything I need from a computer on a daily basis even if it's not as powerful or feature-filled as a traditional laptop.
Eating and Drinking | At the moment, Christmas cookies and water. But I'm thinking about the awesome fruit bouquet my mom got for Christmas — pineapple stars!
Reading | Over the holidays, I finished up a re-read of Philip Pullman's His Dark Materials trilogy — The Golden Compass, The Subtle Knife, and The Amber Spyglass. I loved the parts that focused on people, but felt like I was trudging through the parts on religious theory. Overall, probably a 4 of 5 stars for the series.
My first book of 2015 was Sweetland by Michael Crummy. And you guys, this book is beautiful. I'm still trying to process all of the feelings it gave me. This week I'll be working on a big biography, The Romanov Sisters by Helen Rappaport and jumping into a book for Jazz Age January, Flappers: Six Women of a Dangerous Generation by Judith Mackrell.
Reading | I loved this New York Times profile of Laura Hillenbrand that ran last month. There are some really interesting bits on the state of narrative nonfiction as well as background on how Hillenbrand, who is largely confined to her home due to illness, does her writing.
Watching | I finished rewatching season six of Parks and Recreation and decided to just start over at the beginning. I am going to miss this show a lot — there's nothing on television that's quite as funny and quite as kind. And of course it's Wildcard Weekend, so I've been watching football.
Buying | I went on a bit of a book buying binge at the end of 2014 — Lyra's Oxford and Once Upon a Time in the North by Philip Pullman, Fairy Tales by the Brothers Grimm by Philip Pullman, Black Diamonds by Catherine Bailey, The Physics of Superheroes by James Kakalios, and Sweetland. I added several more books to my online shopping cart on Friday, but haven't pulled the trigger yet.
Blogging | In case you missed it during the holidays, here are all of my end of the year posts: Favorite Nonfiction of 2014, Favorite Fiction of 2014, and 2014 in Bookish Stats. I also posted about my goals for 2015 (and my plans to take on the 2015 TBR Challenge).
Changing | For the last several years, my Goodreads Reading Challenge number has been 100 books. It's a nice round number, and I like that I can often beat it. Initially, I set my goal for 2015 at 105 books, but after some consideration I dropped it down to 96 (eight books per month). This is largely irrelevant, since I don't really read to hit the goal, but it feels like it matters.
Loving | I'm late to the party, but I loved this SNL Digital Short — Hobbit Office.
Avoiding | I need to get moving to make breakfast and get to the gym… but I'd rather cuddle up under a blanket.
Anticipating | Starting on Thursday I'll be in the Twin Cities volunteering with Youth in Government, a YMCA youth leadership program where students participate in a mock legislative session. I was a program participant in high school, and have been an adult volunteer ever since. It's an amazing program, but a very tiring weekend — I'm so excited!