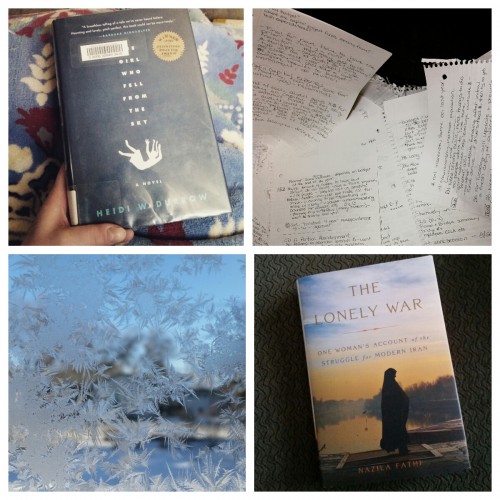 Briefly | I spent almost all of this week in the middle of a gross winter cold, but didn't admit that I needed rest and quiet until I basically fell apart on Thursday evening. After a couple of good nights of sleep (thanks, cold medicine) I'm finally on the upswing, but it's been a rough week.
Time and Place | About 8:45 a.m. on my couch, snuggled up with a cat and a blanket
Reading | Because of the cold, I had a quieter reading week. I finally finished up Flappers: Six Women of a Dangerous Generation by Judith Mackrell (so great!). Then yesterday afternoon I sat down and flew through The Girl Who Fell from the Sky by Heidi Durrow (really beautiful and interesting) and finished up Gretchen Rubin's upcoming book on habits, Better Than Before (March 17 from Crown — I read it as a egalley). I was not impressed with this particular book, but I'm still sorting out exactly why — Kelly Jensen's review on Goodreads gets at some of my issues.
I just started reading The Lonely War by Nazila Fathi, a memoir/reported look at the challenges of modern Iran. I'm only about 50 pages in but I have high hopes — her introduction provided the most succinct and clear summary of the Iranian Revolution and the fall out that I've ever read (and I've read a bunch of books on Iran).
Watching | The boyfriend and I started watching Larry Wilmore's new show The Nightly Show this week and we both really like it! I think the format (a desk segment, followed by a panel discussion) is going to work, and I'm glad that he's been taking on big topics right away.
Blogging | Because of my sick brain, I only got up one review this week, a look at The Romanov Sisters by Helen Rappaport (spoiler, I really liked it). I'm super behind on comments, but the plan is get caught up this morning.
Reminiscing | This Vox piece on Mathnet took me straight back to my childhood. I remember watching Square One with my mom in the first house our family lived in.
Loving | Everyone at work is in a cleaning and organizing mood, which inspired me to get rid of a bunch of old notebooks I'd been hiding in a riling cabinet — goodbye city, school and county board notes from early 2012…
Avoiding | I need to go to the grocery store today… but I don't want to leave my house. I'm hoping we can scavenge until tomorrow.
Anticipating | This week is the Minnesota Newspaper Association annual conference, which is usually a fun couple of days away from work. Since it's in the Twin Cities, I usually get to couple going to the convention with a trip home to see my family before I hunker down for the month of February.
Happy Sunday, everyone! What are you reading today?